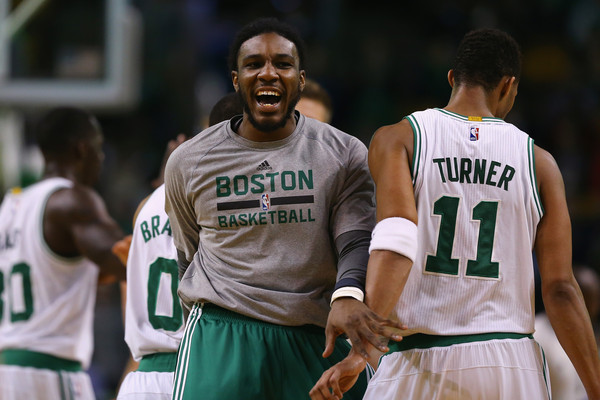 Jae Crowder is expected to be sidelined for a couple weeks as he recovers from a high ankle sprain, much to the potential detriment of the Boston Celtics.
Evan Turner was taken by surprise twice with this news.
First, there was the actual news itself, per Jay King of MassLive.com:
Evan Turner on Crowder's two-week timetable: "I just heard about it. That's definitely tough. In general, Jae's playing so great."

— Jay King (@ByJayKing) March 13, 2016
Then, there was the ramifications of said absence:
Crowder out at bad time. Turner on matchups with Paul George, Kevin Durant coming up: "Oh, shit. I didn't even think about that. Wow."

— Jay King (@ByJayKing) March 13, 2016
What a genuine and accurate reaction.
Crowder is important to what the Celtics do on defense—and, for that matter, offense. The Celtics are just about statistically better with him on both sides of the ball, per Basketball-Reference. And without him, the burden of defending Kevin Durant and Paul George will likely fall on…Evan Turner.
Which, quite obviously, further explains Turner's reaction to the news.
Yes, he knows Crowder is important to the team overall. But he also has to know that Crowder kept him from having to challenge some of the NBA's best offensive wings on his own.