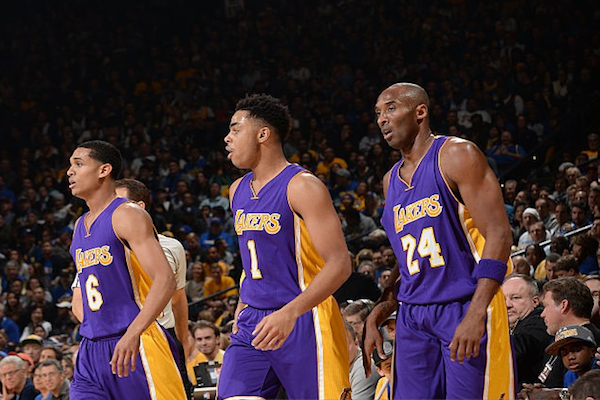 This is what the Los Angeles Lakers planning for the future feels like.
There are no world-beating trade rumors, no wild scenarios in which the Lakers land a superstar while giving up little to no assets. They are a team on the mend, preparing for Kobe Bryant's retirement, patiently waiting for their young foundation of Jordan Clarkson, Julius Randle and D'Angelo Russell to develop into something special.
Yes, the Lakers are waiting. How much longer they plan to wait remains unclear. They could decide to clear the decks and rebuild solely through free agency this summer, when the salary cap explodes and they have the means to carve out more than just max space.
For now, ahead of the Feb. 18 deadline, though, the Lakers do not have an inkling to do anything drastic. Per Dan Woike of the Orange County Register, they're content to hold onto to their kiddies, not shop them in search of immediate upgrades:
Unless some significant move comes to the Lakers' doorstep, you'd think any young piece wouldn't be on the move come Thursday. Jordan Clarkson, Julius Randle, D'Angelo Russell and Larry Nance Jr. shouldn't be considered "untouchable," but the Lakers likely won't be breaking up their young core.
Sure, this is the easy decision. There are no upgrades the Lakers could make that can salvage their cruddy season. Most trades they make, in fact, will only hurt, adding to their win total and making it less likely they retain the top-three protected pick that's owed to Philadelphia.
Not that the Lakers must stand pat. If they can find takers for Lou Williams' and Nick Young's deals without taking any extra salary back in return, they most absolutely, positively should pull the trigger. But it's encouraging, if expected, that, for once, they don't appear to be chasing an instantaneous turnaround on any level, instead opting to invest in process—for the time being.