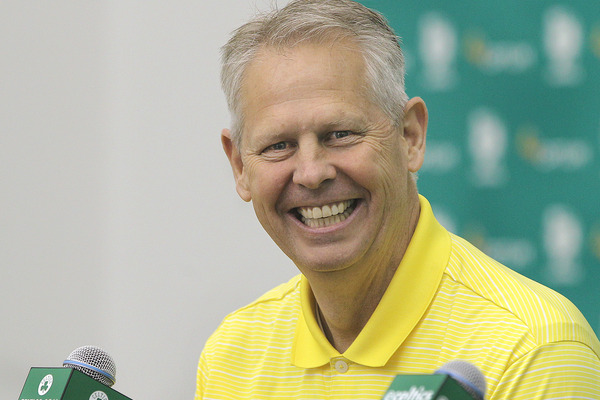 Former Grantland reporter and current ESPN Reporter Zach Lowe wrote a humorous and odd story about Celtics GM and former player Danny Ainge's obession with Mexican and Southwest-inspired fast casual restaurant Chipotle.
Ainge is such a staunch supporter of the popular chain he will regularly have dinners or lunches with draft prospects, free agents and other NBA personnel instead of a fancy restaurant. In fact he may even eat there as much as 10 times a week.
"I have to admit, there are days I eat there twice," Ainge said. "I just like Chipotle."
If you ever wondered if Danny Ainge was a burrito or burrito bowl guy you have your answer, he opts for a burrito bowl with double chicken and vinaigrette and orange dressing.
The official twitter page for Chipotle asked if Ainge would enjoy celebrating his next victory with a less traditional form of a champagne shower…
.@danielrainge when the @Celtics win their next game, should we pour our vinaigrette on you? https://t.co/NkJD6KPUdY

— Chipotle (@ChipotleTweets) January 22, 2016
The next time a Boston-area Celtics fan wants to have an opportunity to give their two cents on how they feel Ainge should build the roster, all they need to do is go to their nearest Chipotle between the hours of 11 am and 9 pm and they'll have a decent shot to see him.