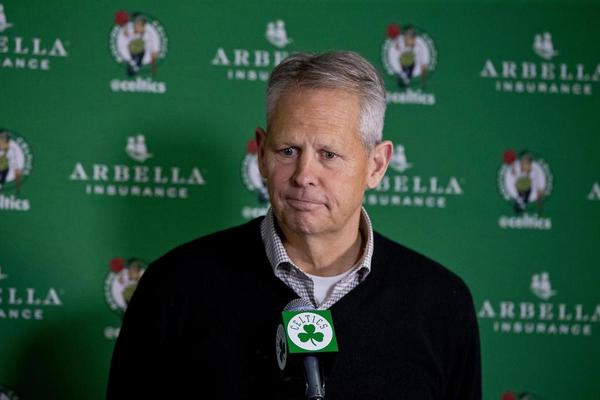 Sorry, Isaiah Thomas. It doesn't seem you're cutting the mustard as the Boston Celtics' go-to scorer.
Of course, this is all according to an unknowing Danny Ainge, who by no meant to maliciously insinuate as much.
The Celtics have consistently been linked to trades for superstars—specifically DeMarcus Cousins. That's what happens when you've amassed as many assets as they have. They're in position to make an enormous splash or two, and it seems like only a matter of time before Ainge strikes.
That point may or may not be coming soon. Danny Ainge notoriously plays things close to the vest. During his usual appearance for 98.5 the SportsHub in Boston on Thursday, though, Ainge did reveal a little bit about what the Celtics are after when pressed on the subject.
Chris Forsberg of ESPN Boston was kind enough to draw our attention to what he said:
"I think the one thing that we could really use is a go-to scorer," said Ainge. "We have some guys that have carried us — Kelly [Olynyk has] carried us, Avery [Bradley has] carried us, Isaiah [Thomas has] carried us, [Jared Sullinger has] carried us at moments during the season, Evan Turner has carried us — but it would be nice to find another player that's a reliable scorer at the end of games, night in and night out."
This makes too much sense, and it's something we've assumed/known for a while—which kind of makes it a big ball of nothing. Ainge essentially said that he wants to improve the Celtics, basically summarizing his job description.
But this is nevertheless noteworthy because, again, Boston has assets. If and when a superstar becomes available, be it Cousins or someone else, you can expect the well-off but still superstar-less Celtics to be at the forefront of the conversation. Even if they aren't willing to give up the Brooklyn Nets' unprotected 2016 first-round draft selection, they have other picks and prospects and digestible contracts to earn them a spot at any bargaining table.
In the meantime, Boston's offense, the one that ranks 17th in points scorer per 100 possessions, according to Basketball-Reference, has Isaiah Thomas. And for now, in conjunction with a top-five defense, that should be enough until—or rather, unless—something else that's obviously better comes along.