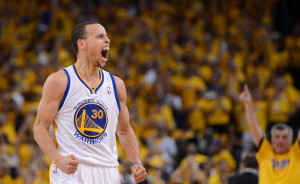 The Golden State Warriors are an unstoppable basketball force an NBA-record 16-0 start is squarely in the sights of the defending champions.
Through a little more than two weeks of the 2015-16 regular season, Golden State has ripped off a franchise-best 10 consecutive victories to open the year. It's the 14th time in league history a team reached 10-0, according to Basketball-Reference.
At this point, the last remaining question is how long the torrid streak will last. Considering the upcoming schedule, though, the Golden State Warriors—who have scored at least 100 points in every game—seem destined for the record.
Golden State's average margin of victory sits at a stunning 17.1 points. The only other teams to have achieved even half of that mark are the San Antonio Spurs (plus-10.8) and Cleveland Cavaliers (plus-8.6).
Undoubtedly, Stephen Curry's amazingly productive and efficient stretch has boosted the Warriors to that clip. The reigning NBA Most Valuable Player must return to Earth eventually, but the 17.1-point difference will help ease Curry's eventual regression.
But man, right now, Curry is on fire.
He's topped the 30-point mark six times, scoring no fewer than 22 points en route to an average of 33.3. However, Curry isn't singularly a shooter—despite being arguably the greatest in NBA history—because the 27-year-old has dished 5.6 assists and 5.3 rebounds per outing.
Again, Curry won't continue that ridiculous rate of scoring. Even if that lapse happens soon, though, his teammates and the upcoming schedule will atone for Curry's drop.
Klay Thompson has managed just 15.2 points per game and is shooting a mediocre-for-him 38.6 percent from three-point range. Per CSN Bay Area, the shooting guard recently admitted he shouldn't have played through a back injury.
Additionally, rim-protecting center Andrew Bogut has returned to the lineup after missing six contests, and the Warriors have won by at least 13 points during each game he's played.
Golden State's opponents en route to 16-0 kicks off against the Brooklyn Nets (1-7). That would be a win. Next up are the Toronto Raptors (6-3), who average seven points fewer on the road than at home. Another win.
The Warriors then make a quick trip for a nationally televised matchup with the Los Angeles Clippers (5-4), a team that couldn't beat Golden State with Bogut sidelined and a 3-of-15 three-point clip from players not named Curry. Los Angeles will be motivated to exact revenge for the early-season loss, but the Dubs have the edge.
If Golden State can return home and topple the Chicago Bulls (5-3) on the other side of the back-to-back, the Denver Nuggets (4-4) and Los Angeles Lakers (1-7) certainly don't pose a major threat.
Yes, the undefeated season must end. It's going to happen eventually, and the loss will probably end up arriving on the unlikeliest of nights. That's just the way basketball works.
Nevertheless, a 16-0 start is likely, and there's no end in sight for the Warriors.