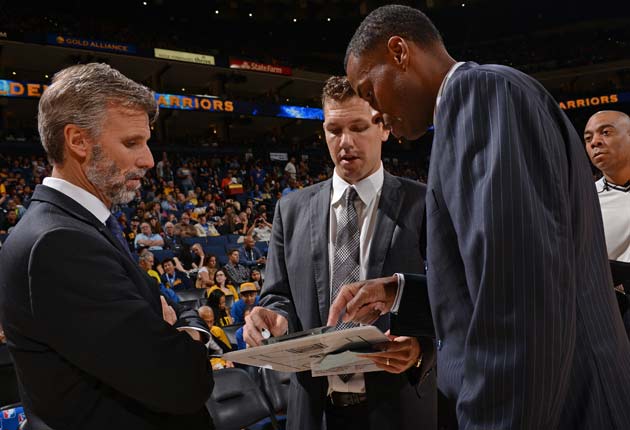 Golden State Warriors assistant coach-turned-interim head coach Luke Walton has a message for his team.
Don't get bored.
It's a message he delivered specifically during the Warriors'129-116 win over the Minnesota Timberwolves Thursday night, but it's also a sentiment they should carry with them as the season progresses.
Here's what Walton had to say, with each new paragraph representing a separate team huddle (h/t Bay Area News Group's Diamond Leung):
We're doing a great of making the simple play. It's a simple game. We hit the open guy, he hits the next open guy. Just keep doing that.

We're doing a great job. I said it last time. We're making the simple plays. Every time. We're getting wide-open shots. They don't know what to do. We just keep making the right plays, play for each other, good shot, great shot, that's all we're doing. Keep it up.

Hey, let's not get bored. Let's not get bored. Just keep making the right plays, the simple plays. Steph, that one three…that's a good shot, but they were both with you. You had Draymond, Draymond's gonna find someone else wide open.
Repetitive? Yes. But if you've ever heard mic'd up NBA huddles, you know that's not abnormal.
Besides, this is the only message the Warriors may need at this point. They're now just the 14th team in league history to start the season 10-0, according to Basketball-Reference, and, from the looks of things, they have a real shot at matching, even breaking, the 1995-96 Chicago Bulls' record 72 wins.
The only thing potentially stopping them from tearing apart opposing teams, aside from injuries, is themselves. If they stay engaged, and healthy, and continue to play their game, never deviating from the outside-in, passing packed style that makes them great, there's no reason why they can't build upon last year's 67-win performance and make a different, more indelible kind of history.
In other words, the rest of the league better hope that, contrary to Walton's best efforts, these Warriors eventually get bored.