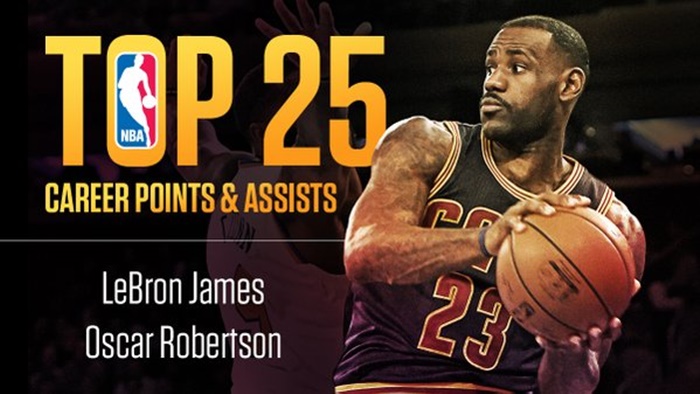 Although he's still just 30 years of age, Cleveland Cavaliers forward Lebron James continues to climb numerous all time NBA lists, this time passing Norm Nixon for 25th in assists.
James joined Oscar Robertson as the only players in NBA history to rank in the Top 25 in both points scored and assists, following dishing out a corner 3 to teammate Kevin Love in the 2nd quarter of Cleveland's win over Orlando on Monday night.
For the game, James racked up an impressive 13 dimes to go with 15 points and 6 boards. The 11 time NBA All Star now has 6,395 assists to rank 25th all time, sitting just 58 assists behind Reggie Theus for 24th place. James still trails active assist leaders Andre Miller(9th) and Chris Paul(15th) but will likely finish ranked among the Top 10 best assist men all time.
Over the weekend, Lebron passed "The Logo" Jerry West for 23rd place all time in scoring with 25,274 career points and currently ranks just 5 points behind Hall of Famers Reggie Miller and Rick Barry for 21st place, and a tad over 300 points behind Alex English in 20th place. As far as active scoring leaders, LBJ still ranks behind Kobe Bryant(3rd), dirk Nowitzki(9th), Tim Duncan(17th), Kevin Garnett(18th), and Paul Pierce(19th).
As a side note, LA Lakers star Kobe Bryant needs just 241 assists to join Lebron and the "Big O" in the exclusive club but it's doubtful he will reach that milestone by season's end, one which very well could be his final NBA season.
Most have been caught up in the comparison between James and Jordan for the title of the G.O.A.T in terms of the greatest player to ever play the game but I'd argue James's best comparison remains Magic Johnson as he has averaged at least 6.4 assists an impressive 9 times already in his career with a high of 8.6 per game in 2010 while Johnson did it 13 times. Jordan has averaged 6.4 assists just once in his career with a high of 8.0 in 1989.
Then of course the ultimate comparison is NBA Titles, where Jordan has 6, Magic has 5, and Lebron has 2 to this point. In my opinion, James will probably rank as the 2nd greatest player of all time when retired which isn't bad….
Allen Moll has been a lifelong NBA and NCAA College Basketball fan who watches and studies games religiously, and coaches youth basketball in his native Lehigh Valley region of Pennsylvania. Allen has also provided content to Bleacherreport.com, Upperdeckblog.com, Cleveland.com, CSN Philly.com, Buckets Magazine, Balltribe.com, in addition to being a tenured NBA and NCAA columnist for TheHoopDoctors.com.