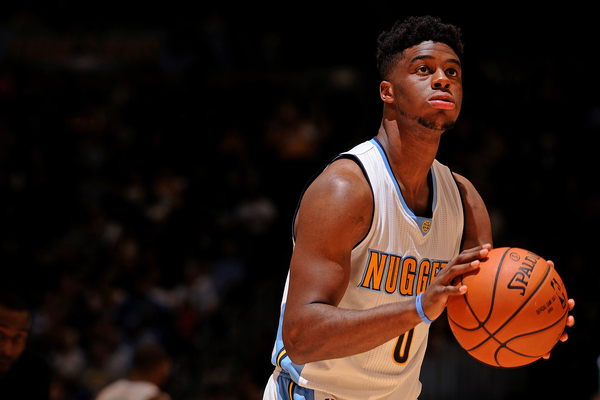 Jason Kidd has faith in Emmanuel Mudiay and is not afraid to show it.
How much faith?
Enough to predict that the Denver Nuggets' rookie point guard will be better than most floor generals—including himself.
From Christopher Dempsey of The Denver Posts:
"At 19 years old, he's very talented," Kidd said. "He's running the team, he's not afraid to take a big shot. Some people have said that he can't shoot, but he finds a way to put the ball in the basket. I think he enjoys to play the game, and I think for me, watching the tape on him is exciting. To see a 19-year old being able to run a team with his poise, and then also his skills. He has skills at the age of 19." …

And he's got an appreciation for the magnitude of the transition that Mudiay is trying to make, from high school and a dozen or so games professionally in China, to learning the ropes as a cornerstone player at the NBA's most difficult position.

"It's extremely hard because everyone wants the ball," said Kidd, with a Cheshire Cat grin. …

Asked if Emmanuel Mudiay compares favorably to him when he first broke into the NBA back in 1994, Kidd smiled again.

"He'll be better," Kidd said. "He's better already. Being able to run an NBA team at 19 is not easy. You look at some of the greats — Magic (Johnson) was able to do it. And you're looking at this kid Mudiay, who has the opportunity to do something special. So, I would encourage him to be better than me, and I think he will be at the end of the day."
Those are some real nice sentiments. It's not every day, or ever, that you hear an opposing coach talk about a player—a rookie player, for that matter—in this vein.
If you're Muiday, it's a huge vote of confidence. It's also cause to dig deeper, to look back and see that Kidd struggled as a rookie, shooting under 40 percent from the floor and worse than 30 percent from three, yet still earned (co-)Rookie of the Year honors and went on to have a Hall of Fame playing career.
To that end, Kidd's start is something for us all to remember when looking at Mudiay.
Yes, his jumper is shaky. And yes, he can be turnover-prone. And yes, he's taking a lot of chances, risks most rookies don't have the opportunity to take with the ball in their hands, because they're not being featured as heavily.
But this is only his first season, and it's clear he has the short-term memory necessary to overshadow those mistakes, something the Nuggets would likely praise given the chance.
Will Mudiay actually be better than Kidd? It's of course too early to tell. For now, he's enduring growing pains—the kind that are hard to watch and won't soon go away but also don't even come close to suggesting Kidd will be wrong.