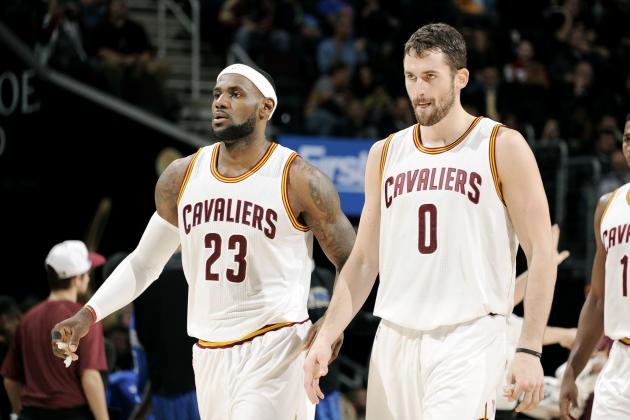 LeBron James and Kevin Love are cool with one another…now.
You can't really go a full day without hearing how cool with one another they are. Love is a more integral part of the Cleveland Cavaliers offenses. LeBron is older. Kyrie Irving is still on the sidelines. The Cavs are, unlike last year, off to a good start.
Everything is peachy keen. Especially between LeBron and Love. Did you know that? Because if you didn't, you should. They're cool with one another. That pre-free agency poolside cabana powwow did wonders. And now LeBron and Love are free to work wonders, together, as friends rather than passive-aggressive teammates.
It wasn't always like this, though. Love spent all of last season looking out of place in Cleveland's offense, struggling to come to grips with being a glorified role player who wasn't really expected to do anything aside from grab rebounds and drill spot-up threes. You would see the displeasure on his face at times, even as he repeatedly told the media he had no plans to leave Cleveland in free agency.
There were hints of frustration from LeBron's end too, mostly in the form of a fit-in, fit-out tweet that, to this day, still doesn't make much sense. All the while, it was assumed Love just needed to fall in line. LeBron held the key to a championship; he brought Love along for the ride. It was on Love to enjoy it and embrace it and put on a better face.
Thing is, LeBron himself apparently wasn't helping the situation much. Though he was essentially the architect of Love's arrival, their partnership immediately got off on the wrong foot, according to Jason Lloyd of the Akron Beacon Journal:
Yet from almost the moment Love arrived, the relationship seemed to sour. James went to great lengths to get him here, and now team officials concede James didn't treat him very well once he arrived.

In truth, James was frustrated in part because Love showed up out of shape. He didn't work out much at all the summer he was traded here and he wasn't the player James was expecting. His legs bothered him all season. His back was hurting. All of the parts were connected and none of them were firing properly.

James loves talent and he loves playing alongside elite players. Love's physical condition prevented him from being the player James thought he was getting. As a result, James gravitated toward Kyrie Irving and Love never fit well into this system.
It'd be understandable if LeBron was pissed at Love for showing up out of shape. He takes conditioning seriously, and winning even more so. If it seemed like Love was jeopardizing his shot at a title through underlying laziness, well, everything we know about LeBron points to shit getting weird.
Counterpoint: While Love isn't looped into the same class of athlete like LeBron, he must have gotten his physique in order at some point after arriving in Cleveland, because, ya know, this:
At any rate, Love and LeBron are cool now.
Did you know that?
Because it's true.
Last season is last season, the past is in the past, and these two, while not yet the best of friends, are finally on the same page, ready to tackle the same mission.