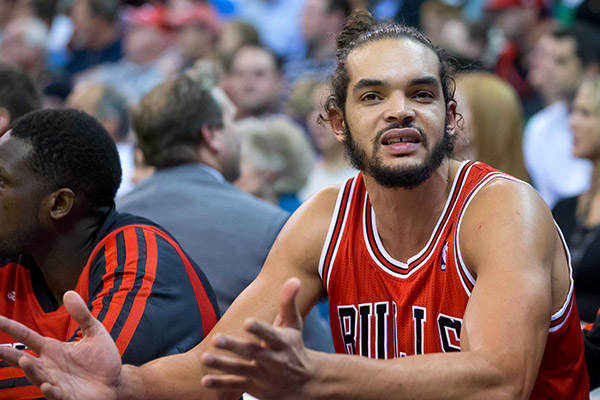 When new Chicago Bulls head coach Fred Hoiberg relegated Joakim Noah to bench duty, one of two things happened.
Some brushed it off. Noah has always been a team player, and the Bulls are stacked with frontcourt talent. He would understand.
Others began to panic, or at least wonder if there would be any repercussions, either behind closed doors or publicly. Joakim Noah is a two-time All-Star, after all. He had started 99 percent of the games he appeared in since 2010-11. He's also in a contract year and will have the opportunity to leave via free agency next summer. Diminishing his role, even if it was for the better of the team, even if he ended up playing starter's minutes anyway, was an unnecessary risk.
As it turns out, though, neither reaction was appropriate. There was no need to defend Noah, to guess how he'd react, to wonder if he would ever sour to his current situation.
Why? Because this was all his idea. That's what Hoiberg revealed during a question-and-answer sessions with Grantland's Zach Lowe:
[Lowe]:How was the conversation when you told Joakim he officially wasn't going to start?

[Hoiberg]: Jo actually came to me and talked to me about that. He said, basically, "I've always played well with Taj." He said he thought Niko and Pau played very well together, so let's go that route. It was actually Jo that started the whole conversation. He came to me. That says a lot about him.

[Lowe]:Were you already leaning that way anyway — like as early as August or September?

[Hoiberg]: I had thought a lot about a lot of different lineups. I hadn't come to any type of conclusion. But it was great of Jo to just come and have that conversation.

[Lowe]: Could it flip back? I already get nervous watching those bench units trying to generate offense.

[Hoiberg]: Sure. We're not married to anything right now. We'll see how things go. I liked the chemistry of our first group last night [against Cleveland]. I thought the bench guys came out and played well.
Now, on some level, Joakim Noah might of just been making Hoiberg's job easier. Maybe he sensed things were headed in that direction, and rather than fight it or wait to see if Hoiberg would, in fact, make that change on his own, he embraced it and owned it and orchestrated it for the sake of the team.
Or perhaps he really doesn't care. He's always been lauded as a team guy, and this was the ultimate team-first move. He's still going to play provided he's healthy, and if the Bulls emerge as the biggest threat to the Cleveland Cavaliers' Eastern Conference throne, that's all the more reason for him to continue owning and loving his role.
Really, that's the key to everything. So long as the Bulls win, Joakim Noah will have no reason to second guess how he's being used.