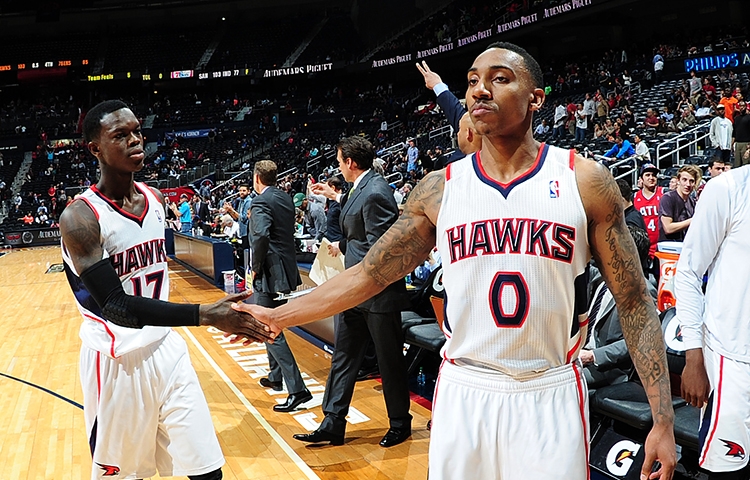 Dennis Schroder does not want to leave the Atlanta Hawks.
Future Dennis Schroder might.
Two years into his NBA career, Schroder already sees himself as a starting point guard—which, for the record, isn't totally absurd. Professional athletes are intrinsically self-assured, for one, and Schroder made something of a second-year leap. The Hawks were a net-minus with him on the floor, according to Basketball-Reference, but his per-36-minute splits are sexy, he's dangerous off the dribble, and he can be a pesky defender.
But Schroder isn't a starter. He plays behind Jeff Teague, an All-Star. He plays for a Hawks team that, much like the San Antonio Spurs, emphasizes the importance of the entire unit over the individual. While it's perfectly fine to have ambitions, you're not supposed to rock the boat in the opposite direction.
Which is exactly what Schroder did, per Bild (via Sport1), as translated by E. Carchia of Sportando (h/t ProBasketballTalk):
"My goal is to start as point guard" Schroder said. "If this doesn't happen, I will look for other opportunities" added the German talent. "The Hawks are a great team, the city is nice and everything is perfect now. Teague? He was an All-Star and he helped me a lot. I must be patient and work hard and eventually I'll have my opportunities" ended Schroder.
There's nothing exceptionally wrong with these comments. Schroder is young and ambitious. That's not a bad thing, especially when he is, at worst, saying the Hawks will eventually have a decision to make. And though that sounds like a problem, if Schroder ever reaches a point where he's challenging Teague for that starting point guard slot, Atlanta will take that problem.
Even if you think it's in poor taste, though, there's not much to worry about. Schroder has no real way of leveraging a trade—though, again, he's not asking for one. He will be eligible for an extension next summer. If he doesn't sign one, he'll enter restricted free agency in 2017, at which point the Hawks will have the right to match any offer he receives. They control his future in Atlanta.
Teague will be a free agent in 2017, too. Perhaps then, almost two years from now, the Hawks will have a legitimate dilemma on their hands. Right now, there's nothing to see here. Schroder is merely happy in Atlanta yet confident in himself, and nothing more.