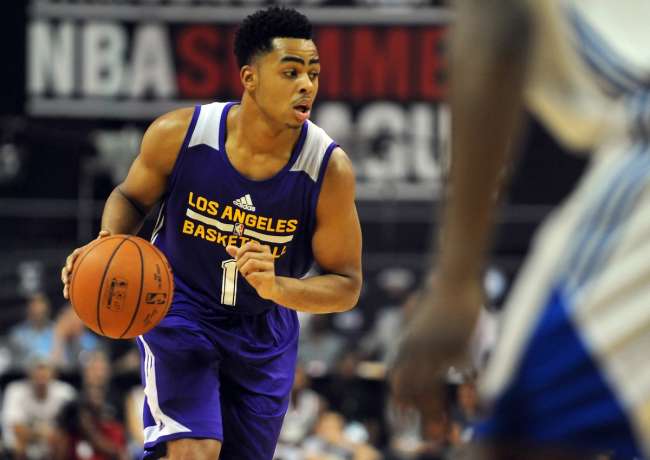 Michael Jordan is most certainly the Greatest Of All-Time. The one and only GOAT. But many other names get bandied about in debates about who the GOAT is. Names like Wilt Chamberlain, Kareem Abdul-Jabaar, Bill Russell, Kobe Bryant, and Lebron James. But I don't recall too many of these conversations listing Tracy McGrady….until now.
The Los Angeles Lakers' highly-touted rookie point guard, D'Angelo Russell, seems to think otherwise:
Honestly Tracy McGrady might have been the GOAT!

— D'Angelo Russell (@Dloading) August 13, 2015
Oh really now? Knowing Kobe Bryant's ego and focus on legacy, I'm not sure its a smart move for rookie teammates to call-out random players as better than Kobe in the all-time list. Or to imitate his game in jokes for that matter.
There really is no denying how offensively capable McGrady is. He led the league in scoring during the 2002-03 and 2003-04 regular seasons, posting 32.1 ppg and 28.0 ppg respectively. He proved to the entire universe that it's possible to score 13 points in exactly 35 seconds and win a game in dramatic fashion. Just go ask Tim Duncan and the Spurs, or better yet, see it for yourself:
Throughout McGrady's 15-year career in the NBA, he's garnered numerous accolades to boast about. To name a few, he made the All-Star game for seven straight years (2001-2007) and was named twice in the All-NBA First team back in 2002 and 2003. Also, he ended his career averaging 19.6 ppg, while shooting 43.5 percent from the field.
Unfortunately, some back and knee issues ultimately put an end to his decorated career. Given all of this, he's definitely got a shot at being a future Hall of Famer, however, there's exactly two things McGrady is missing to be considered as one of the greatest of all time; a ring and an MVP award. Without those two, it's quite foolish to even think of putting him in such a prestigious list.
Russell's claim seems to be just purely based on admiration. That's it.
What do you think?
Benjamin Felix Santos' basketball career didn't work out pretty well so he decided to write about basketball instead.
Follow @biefsantos