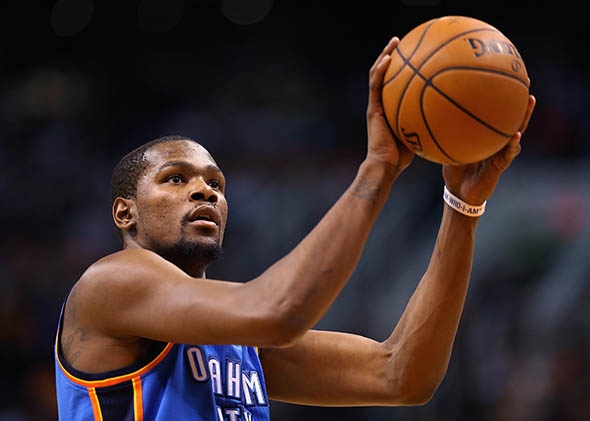 Still months away from next season and the Kevin Durant saga is already making its entrance.
It's going to be a crazy summer in 2016, especially, when free agency hits. Many teams will surely be placing their offers in attempts to land the most versatile and potent scorer the league has seen in many years. Kevin Durant will be a free agent, and the hype machine will be at an all-time high. Plus, many teams are likely to have enough cash to spend when the salary cap increases next season. Money is not going to be an issue.
But despite this, NBA executives strongly believe that KD is not going anywhere, per Ken Berger of CBS Sports.com:
Most league execs informally polled here at Summer League expect Durant to stay in Oklahoma City when he hits the market next summer. There are only a handful of teams that can legitimately think they're an option. The Lakers, the Mavs and the Wizards (in Durant's hometown) are in the mix, for starters. The Knicks? I mean, I guess, in theory.

As of now, it's pointless to even start thinking about this with one whole season still ahead of us. A lot can happen before this time comes, but at least for Oklahoma, it's good to know many think their star won't be ditching them (for now).
Durant's probably not thinking about this right now as his free agency is a year away, and his focus is likely on his training to be at full strength physically and mentally come opening night for the Oklahoma City Thunder next season. As the spotlight has dimmed of late in OKC, Durant and the Thunder are likely looking to take the league by storm again and make a deep push into the playoffs.
Or at least they better if they hope to keep Durant in OKC.
Benjamin Felix Santos' basketball career didn't work out pretty well so he decided to write about basketball instead.
Follow @biefsantos