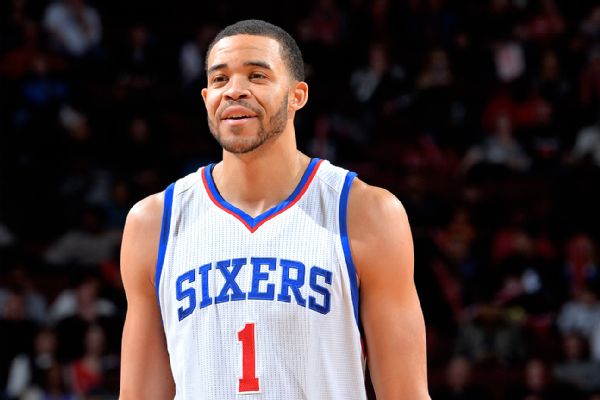 The Dallas Mavericks' loss looks like it'll end up being JaVale McGee's gain.
Whiffing on DeAndre Jordan in free agency has left the Mavs to shift their course and try putting together a competitive unit on the fly. They traded for Zaza Pachulia from the Milwaukee Bucks, and they essentially lucked into Deron Williams. Charlie Villanueva and Richard Jefferson are coming back, too.
Now it appears McGee may be right behind them.
From Shams Charania over at RealGM:
The Dallas Mavericks have opened discussions on a potential deal with free agent 7-footer JaVale McGee, league sources tell RealGM.

— Shams Charania (@ShamsCharania) July 13, 2015
McGee has been linked to a ton of teams since being waived by the Philadelphia 76ers last season. For a while, it appeared as if he was going to the Boston Celtics. But things have been mostly hush-hush over the last couple months, with McGee's rumor mill bordering on nonexistent.
Syncing up with the Mavericks is a natural direction at this point. They need a shot-blocker, and McGee, for all his naiveté, can block shots. His basketball IQ isn't especially great, his free-throw shooting is abysmal and he won't give you anything other than converted lobs and put-backs on the offensive end, but that's good enough for the Mavericks.
They don't feature centers prominently on the offensive end anyway. Rick Carlisle prefers his bigs to protect the rim first and foremost, and then he'll use them as almost exclusive pick-and-roll finishers on the other side. Even with McGee's limited offensive skill set, he should be able to satisfy that role. Carlisle is a sideline magician as well; he may even be able to help McGee expand his game.
One of the caveats, of course, is that McGee isn't a great defender just because he blocks shots. The 3.2 swats per 36 minutes he's averaging for his career are swell, but his conditioning has long been an issue, he cannot defend off the dribble and he doesn't provide help defense consistently enough.
Still, the Mavericks cannot be choosy. Not now. Not with free agency on its last legs.
Not when being selective, zeroing in on Jordan, helped put them in this position, one where they're scrapping and clawing just to keep their seventh-seeded playoff slot, in the first place.