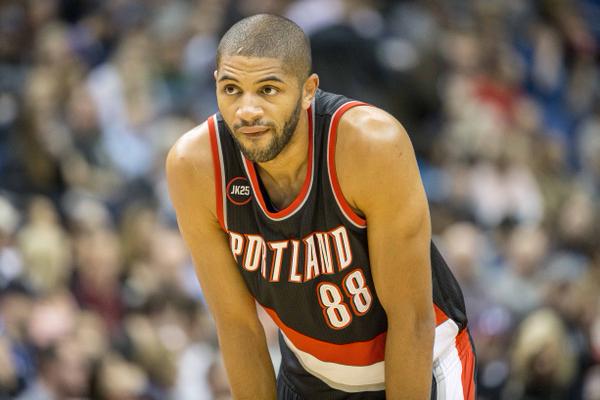 Sometimes the NBA is quiet ahead of its yearly draft.
This is not one of those times.
The Charlotte Hornets are making moves. Yes, plural.
First, Adrian Wojnarowski of Yahoo Sports reported that the Hornets acquired Nicolas Batum from the Portland Trail Blazers. Here are the details on that one:
Portland is finalizing a trade to send Nic Batum to Charlotte for Noah Vonleh and Gerald Henderson, league sources tell Yahoo.

— Adrian Wojnarowski (@WojYahooNBA) June 24, 2015
Noah Vonleh was projected by many to be the next Chris Bosh. He was drafted ninth overall in last year's selection extravaganza, but appeared in just 25 games for the Hornets as a rookie, in part because he started off the season injured.
Gerald Henderson is a serviceable shooting guard. He, along with Vonleh, give the Blazers players to plug in at the 2 and 4 spots should Wesley Matthews or LaMarcus Aldridge leave in free agency.
Speaking of the Blazers, this move reeks of a team trying to blow it up. But, apparently, that's not what they're doing. Per Woj:
Sources: Blazers didn't make deal as first step of rebuilding. Aldridge was aware of trade, and Blazers did deal independent of free agency.

— Adrian Wojnarowski (@WojYahooNBA) June 24, 2015
Batum's departure might actually bode well for Aldridge's return. He was slated to be a free agent in 2016, and Matthews, Aldridge and Robin Lopez are already on the open market. Plus, Damian Lillard is up for an extension this summer as well. It was always going to cost a pretty penny to keep this core together, and now the Blazers have rid themselves of at least one lucrative investment by moving Batum. That gives them more energy to focus on Aldridge.
As for the Hornets, Batum and Michael Kidd-Gilchrist make for a nasty defensive combo at the 2 and 3. Moving Lance Stephenson to the Los Angeles Clippers gave them the flexibility and wherewithal to make this move, and if nothing else, they gain an impact player who, even though he's coming off a career-worst year, is a better fit and producer than Stephenson.
And the Hornets weren't done either. They landed Jeremy Lamb from the Oklahoma City Thunder as well.
From the Charlotte Observer's Rick Bonnell:
I am told the @hornets will also end up with Jeremy Lamb in a separate deal involving Matt Barnes' contract. Barnes isn't going to OKC.

— Rick Bonnell (@rick_bonnell) June 24, 2015
There was no immediate details on where Barnes is headed, and it's obviously not OKC. The Thunder are actually trying to clear the decks further, according to Woj:
Sources: OKC engaged on fronts trying to unload a contract to solidify ability to keep Enes Kanter, Kyle Singler in restricted free agency.

— Adrian Wojnarowski (@WojYahooNBA) June 25, 2015
Ah, draft season.
Don't ya just love it?