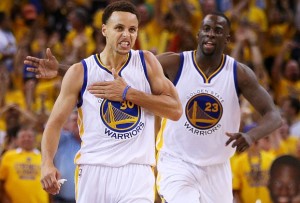 Stephen Curry arrived just when the Golden State Warriors needed him. And now he has his team on the verge of its first NBA title in four decades. The Warriors visit the Cleveland Cavaliers Tuesday, up 3-2 in their championship series.
Curry dealt the final blows in the Warriors 104-91 triumph on Sunday night and finished with 37 points, by far his best game of the series. His key baskets, from inside and outside in the last two minutes, helped the Warriors stretch to their biggest lead of the game. His play also helped turn back the efforts of LeBron James, who had 40 points, 14 rebounds and 11 assists.
If the NBA finals odds prediction holds out (SportsBetting favors the Warriors at -190), it would be the second straight year that James has been denied an NBA title in the championship series. The San Antonio Spurs did it to James and the Miami Heat last season in just five games.
Curry got plenty of help from the play of his supporting cast. Draymond Green had 16 points and nine rebounds, Andre Iguodala added 14 points, eight rebounds and seven assists, and reserve Leandro Barbosa scored 13 points, as the Warriors played almost even with the Cavs for most of the game. James had help, too, but the trend of wearing down in the final minutes of the game continued, as the Warriors suddenly had open lanes to drive and free space for jumpers in the final five minutes.
Tristan Thompson scored 19 points and pulled down 14 rebounds as one of James' co-stars of the game.J.R. Smith scored 14 points, but was virtually absent in the second half. And the Cavs' other big man, Timofey Mozgov played only nine minutes, most of them in the second half.
Now the series shifts back to Cleveland, with the Cavs fighting with their backs to the wall. They have been posted as a 4.5-point underdog for the game, which is a fair number, even on their home floor. Cleveland simply does not have the personnel to support James and counter the Warriors' deep lineup.
The Cavs have seemingly tried everything. In an effort to keep up with the Warriors running game defensively, Cleveland went with a smaller lineup on Sunday. They started Mozgov, but played the vast majority of the game with the 6-foot-9 Thompson as their big man, along with James, Matthew Dellavedova, Iman Shumpert and either Smith or James Jones filling in. The strategy seemed to work in the first half, as the Cavs won the loose-ball and rebound battles. But as the game wore on, Golden State's deep bench helped give them the energy to win those battles late.
The Warriors ended up out rebounding the Cavaliers, 43-37.