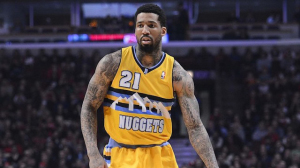 There has been a lot of drama lately in Hollywood, and it's not just the Lakers.
The Los Angeles Clippers have been making some noise in their own way, as we head towards free agency season. They recently acquired Lance Stephenson from the Hornets just a few days ago, and they won't be stopping there.
Part of the Stephenson trade was their small forward Matt Barnes, who was sent to Charlotte. Without him the Clippers are in search of a versatile small forward that could complement Chris Paul, Blake Griffin and DeAndre Jordan in the startling lineup.
One of the candidates emerging is Nuggets' Wilscon Chandler, as the Clippers are discussing making a run at him, according to Arash Markazi of ESPN:
The Clippers are also exploring trade options for Jamal Crawford, according to sources, and one possibility is trading Crawford and C.J. Wilcox, the team's 2014 first round pick, to the Denver Nuggets for Wilson Chandler.
This move makes a lot of sense for the Clippers.
Chandler can definitely fulfill the small forward role and has proven to be quite effective in Denver, where he averaged 13.9 points and 6.1 rebound per contest in 75 games played last season. He's a legitimate threat beyond the arc and could blend in well with the Clippers, especially in stretching the floor on offense the way JJ Redick does.
However, the question here would be if the Nuggets are willing to pull the trigger and does it even make sense for them to do so.
As of now it's unclear. But if they decide to start entertaining trades for their small forward, it'll most likely be after they've successfully traded their point guard Ty Lawson, who they're reportedly trying to find a new home for.
If this deal for Chandler doesn't succeed, there's always other options out there like Paul Pierce, for instance.
Stay tuned. Free agency is going to be interesting this year for the Clippers.
Benjamin Felix Santos or a.k.a Bief's basketball career didn't work out pretty well so he decided to write about basketball instead. So far, there haven't been any regrets at all. His passion and love for the game will never die.
Follow @biefsantos