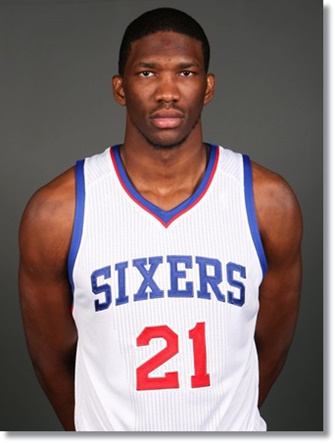 The supposed payoff of the Philadelphia 76ers "tanking" the past few seasons, winning just 37 games since 2013, was going to begin to show some promise this upcoming season as former #3 overall Draft pick Joel Embiid was set to make his NBA debut following missing his entire rookie year rehabbing a stress fracture in the navicular bone in his right foot, sustained last June.
The 7 foot and 270lb behemoth has a ton of potential, so much so that many NBA executives compared the big man to NBA Hall of Famer Hakeem Olajuwon following one season at Kansas, for his arsenal of low post moves and dominance around the rim. He missed some time at Kansas due to a back injury, causing him to slip to the 3rd pick in 2014, behind Andrew Wiggins and Jabari Parker.
The Sixers took his rehab slowly, essentially red-shirting him this past season, hoping to get Embiid back at full strength for '15-'16. All things looked good as Embiid was spotted before 76er games throwing down between the legs dunks and looking like a future All Star talent.
Philly fans were ecstatic to finally get to see Embiid play alongside fellow 7 footer Nerlens Noel, one of the NBA's most promising rookies in 2015, in the upcoming NBA Summer Leagues, as well as this year's 1st round selection(#3 overall), which could turn out to be D'Angelo Russell or Emmanuel Mudiay.
But those hopes have come to a screeching halt as it was revealed this weekend that Embiid has once again suffered a setback in the healing process of his injured foot………..
After weeks of rigorous workouts, Embiid had not felt pain in the foot, but a recent CT scan revealed an issue in the healing process, sources said. Philadelphia is consulting with doctors on how to best proceed, and it's still premature to speculate on the possibility of another surgical procedure that could sideline Embiid, sources said.

Embiid had been expected to participate with Sixers' summer league teams in July, but that could jeopardized now, sources said. For now, it is too soon to tell how long Embiid will be kept out.
It's a devastating blow to the franchise that hoped to have a plan in place to bring back the glory days of the 80's and 90's when Hall of Famers like Julius Erving, Charles Barkley, and Allen Iverson once made Philadelphia an NBA contender.
General manager Sam Hinkie said in a statement that a recent CT scan, performed in Los Angeles, revealed less healing than anticipated at this point……………
"Our priority remains providing Joel with every opportunity to ensure he has a long and successful NBA career," Hinkie said. "And as such, these findings cause us to pause and reassess his current activities. Together with Joel and his representatives, we will continue to consult with the experienced team of doctors who have been an integral part of his evaluation, while also engaging in dialogue with a broader set of experts and specialists."
The only good news is that news of the setback came out before the upcoming NBA Draft on June 25th, where it was anticipated that the 76ers were looking to draft a point guard of the future to pair with their dominating big men but they now may chose to focus on selecting another big like Jahlil Okafor, Kristaps Porzingis, or Willie Cauley-Stein depending on Embiid's future prognosis.
Is Joel Embiid the next Hakeem Olajuwon or Greg Oden?
Allen Moll has been a lifelong NBA and NCAA College Basketball fan who watches and studies games religiously, and coaches youth basketball in his native Lehigh Valley region of Pennsylvania. Allen has also provided content to Bleacherreport.com, Upperdeckblog.com, Cleveland.com, CSN Philly.com, Buckets Magazine, Balltribe.com, in addition to being a tenured NBA and NCAA columnist for TheHoopDoctors.com.