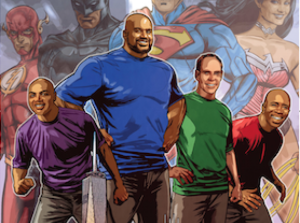 For a few years now, Charles Barkley has stated that he'd probably leaving TNT to do other things when his current contract is up in 2016. That would mean next season would be the last time we saw Chuck in that role. But apparently he has had a change in heart as Turner Sports has announced a multi-year extension with all members of the crew. Chuck included.
The best studio show in sports television history will stay intact for the next couple of years.

At its upfront event today at Madison Square Garden, Turner Sports will announce that Charles Barkley, Ernie Johnson, Shaquille O'Neal and Kenny Smith—the quartet that makes up TNT's Inside the NBA—have signed multi-year extensions with the company.

The news is particularly significant given Barkley has told Sports Illustrated repeatedly over the years that he thought it would be a struggle to complete his current contract when it expired in 2016. Now NBA fans will see him long past that date. Turner would not release information about the lengths of the extensions, but it's likely in the 4-5 year range for most.
H/T: SI.com