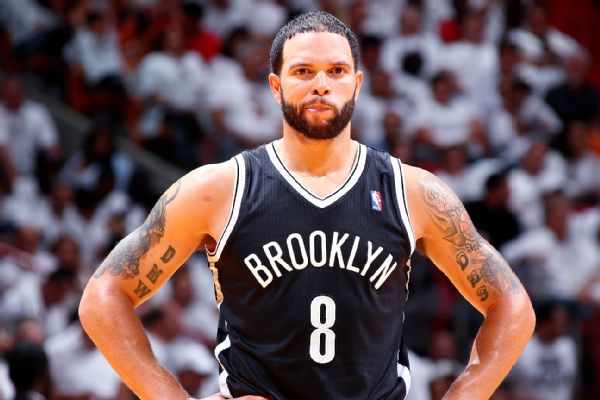 It turns out the Brooklyn Nets won't pay Deron Williams to go away.
Williams has spent a turbulent four-plus years with the Nets organization, going from a recurring All-Star and staple in the best point guard conversation to an overpaid afterthought with ankles made of soggy tissue paper. The prospect of trading him has loomed large for quite some time. Moving his contract would rid the Nets of a financial albatross who has failed to give them the superstar anchor they so desperately need.
Moving him is basically impossible at this point, though. And that's left some to speculate over whether the Nets might actually waive him in order to save some money in the short term. But that's not going to happen either.
Per NBA.com's David Aldridge:
Lopez helped his market price with a strong finish, and GM Billy King said he and Young, who holds a player option next season at $9.7 million, were priorities to retain. He did not mention Williams, who struggled mightily in Brooklyn's first-round loss to Atlanta save for his sparkling, 35-point Game 4. But a buyout of Williams, while potentially saving the Nets millions of dollars via the "stretch" provision, is not in the cards. The Nets are not interested in giving Williams $43 million to not play.
This shouldn't come as a crazy surprise. Williams is owed close to $43.4 million over the next two seasons, assuming he doesn't exercise his early termination option before the 2016-17 season (he won't). Under the NBA's stretch provision, the Nets can waive him and spread that $43.4 million over one more than double the number of years remaining on his deal.
That's five years in this case, which means the Nets would be paying Williams $8.7 million annually through 2019-20. Even with the salary cap set to exceed $100 million in the summer of 2017, $8.7 million of dead cap isn't negligible.
Besides, it's not like the Nets are doing anything substantial by waiving Williams. It'll give them added flexibility next summer, but immediately, they have nearly $59 million in guaranteed salaries on the books for 2015-16. And that's before factoring in the potential returns of Brook Lopez and Thaddeus Young.
Opening roughly $12.3 million in additional cap flexibility ($21 million minus the $8.7 million) sounds better in theory than practice, because there's a chance the Nets only succeed in lowering their luxury tax bill if they bring back both Lopez and Young.
Unless owner Mikhail Prokhorov is bleeding dollar signs (or feeling particularly destructive), it's better for the Nets to gut this out and plan on paying Williams through his contract's end, all the while hoping he has a superstar-worthy 2015-16 season that maybe, just maybe, compels him to explore free agency in 2016 and secure long-term money over the $22.3-plus million he'll be owed.
Unlikely, sure. But one can dream.