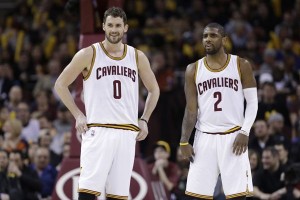 Kevin Love is out indefinitely for the Cleveland Cavaliers, which may be a blessing in disguise…for the Los Angeles Lakers.
After getting, um, entangled with Kelly Olynyk midway through the first quarter of the Cavaliers' series-clinching Game 4 victory over the Boston Celtics, Love will be out of action indefinitely. Twitter is all aflutter with what will happen next. He may be out two weeks, he may be out much longer, he may get a second opinion that confirms everything or nothing.
That, for the time being, is neither here nor there. According to Yahoo Sports' Adrian Wojnarowski, Love's foray into free agency is not foregone conclusion, and the Los Angeles Lakers are still very much in play for the All-Star power forward.
Especially now.
From Woj:
For as much as Kevin Love has publicly resisted the discussion of free agency this season, it has been on his mind. He has never been completely comfortable in Cleveland, with his role, nor his connection to those around him. Throughout the year, league sources say, one destination grew in possibility as his exit strategy: The Boston Celtics.

Boston has been no sure thing to lure Love, but it had a better shot than most had believed. If Love left the Cavaliers, the Celtics had closed the gap on the Los Angeles Lakers, league sources told Yahoo Sports.

The Celtics were waiting for July, and the chance to let coach Brad Stevens lay out Love's expanded role in his system. General manager Danny Ainge wanted a chance to sell Love on a vision for surrounding him with complementary talent, on maximizing his popularity as New England's next star.

And so, suddenly, maybe everything changed on Sunday. Kelly Olynyk and Love tangled, Love's left shoulder apparently separated and clearly he's beyond furious. He called the play "bush league," and insisted that Olynyk "did it on purpose."
Okay, so, a few things.
First and foremost, the Cavaliers are still the favorites to keep Love. Forget that they own his Bird rights and can offer him the most money, and forget that it would behoove Love to give it another year, and forget that his injury could leave a lot of questions unanswered if the Cavaliers fall short of winning the title. Love has yet to give an inclination that he wants to leave. While he's now out, this is the first time he has been to the playoffs and is playing on a contender. There's no guarantee he gives that up, especially for a rebuilding situation.
Second of all, the Olynyk thing is weird. The Celtics could easily trade him if Love is interested in joining their ranks. Olynyk and Love could also, you know, try to talk this out. Love might feel differently in a month or two, when he's had time to digest the situation and, in turn, conclude that Olynyk isn't a sociopath who takes sadistic pleasure out of ruining careers.
Still, this most certainly isn't bad news for the Lakers and their fans. At worst, nothing has changed. At best, you're dealing with one less attractive suitor. That'll come in handy this July, assuming Love hits free agency and actually considers leaving Cleveland. And that much we don't know.
It does, however, look like the Lakers will be in play if it gets that far.