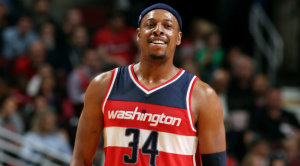 Ordinarily, veterans have earned the right to speak their mind. A 10-time All-Star and 2008 Finals MVP, it's fair to say Paul Pierce has reached that point.
But the 37-year-old said some things about some former teammates to ESPN's Jackie MacMullan, and the timing couldn't have been worse.
Pierce, who played for the Brooklyn Nets last season, explained how he felt Deron Williams didn't want to be an MVP candidate, called Joe Johnson "a reluctant leader" and said that Kevin Garnett wasn't properly utilized.
One year later, Pierce is now a starter on an inconsistent Washington Wizards squad, and the longtime-pro shared the words of wisdom he's offered to John Wall and Bradley Beal. Per MacMullan:
I talk to them a lot about mental preparation and consistency. I keep telling Wall and Beal, 'You've got to make up your mind. Do you want to be good, or do you want to be great? Because if you want to be great, you gotta do it every single night, not just when you feel like it.'

Both of those guys have the potential to be great. I love them. But sometimes I'm not sure they realize what it takes."
Then Tuesday happened. Now, to be fair, MacMullan wrote this column from Philadelphia, and the Wizards visited the 76ers on April 8. There is a very strong possibility Pierce's words are a week old.
Plus, Washington was literally playing for nothing other than a realistically meaningless victory in the win column. However, the Wizards performance suggested that "meaningless" was their mindset for 58 minutes.
It's hard to describe how bad that basketball game was. Like, if you didn't stumble into Indiana's 99-95 double-overtime victory, try watching paint dry. That's probably more exciting.
But Pierce's contributions—or lack thereof—have essentially become the most memorable part of the night.
It's kinda funny that Paul Pierce put everyone on blast then played 18 scoreless minutes.

— KJ_NBA (@KJ_NBA) April 15, 2015
He checked out of the game with 5:03 remaining in the third quarter, when the Pacers held a slim 48-47 advantage. From that point on, the veteran occupied what one can only assume was his favorite seat on the bench for the final 22 minutes.
Maybe Pierce wasn't mentally prepared for the outing, which caused his display of inconsistency. He didn't bring it on Tuesday. He wasn't great. Perhaps he simply didn't feel like being great.
Whatever the reason, though, Pierce lived up to his criticisms of other players. And the timing couldn't have been better.
Paul Pierce out there talking all that trash and here he is getting smoked by CJ Miles https://t.co/VYwifcCuAi

— gifdsports (@gifdsports) April 15, 2015
Unless otherwise noted, stats are courtesy of Basketball-Reference.com and are accurate as of April 15.
In addition to his work for The Hoop Doctors, David Kenyon contributes to Bleacher Report and Sportsnaut. You can follow him on Twitter: @Kenyon19_BR.