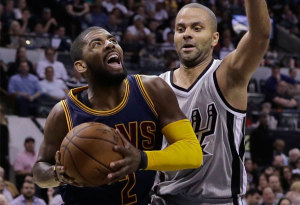 On Thursday night, Kyrie Irving was unstoppable against the defending champions—San Antonio Spurs.
No matter how heavily Irving was guarded, who was matched up with him, and whatever defensive tricks and tactics the Spurs tried on him—he was still able to put up a dazzling performance dropping a career-high of 57 points, on 20-of-32 shooting, while a perfect 7-for-7 from beyond the arc. And of course his big game wouldn't be complete without a buzzer-beating three-pointer to force overtime, eventually leading to the Cavs 128-125 win on the road.
This scoring outburst puts Irving up with Kobe Bryant, Michael Jordan, and Tom Chambers as the only four players in the last 25 years to have scored two 55+ point games in a season.
Please enable Javascript to watch this video
Benjamin Felix Santos is currently a senior college student from Manila, PH. An aspiring NBA writer, who bleeds the purpleand gold. His love and passion for the game will never die.
Follow @biefsantos