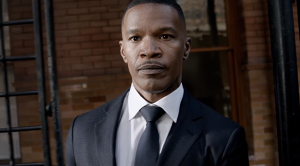 Stephen Curry becoming the face of the basketball division at Under Armour was a excellent move to bring the brand into mainstream popularity. With the Curry One sneaker now out, a strong marketing campaign would propel the shoe into a position that Under Armour has never been in. Enter comedian Jamie Foxx as the face of the Charged By Belief commercial.
Not only will Jamie Foxx be a lead endorser of the Curry One, but it seems he is apart of the all-around team as shown in a separate commercial highlighting new Under Armour training and apparel products.
After hearing Under Armour president Kevin Plant passionately address the crowd, Foxx gave more color-commentary before Stephen Curry joined on-stage for some humorous banter before playing the commercial for us before the spot airs nationally.
Please enable Javascript to watch this video
When leaving, there was a Chef Curry-themed food truck outside serving empanadas which served as a tasty reminder that Mrs Ayesha Curry is a budding personality on the food scene. Chef Curry with the pot for real.
Want to throw a public shoutout to Tai, Danielle, CJ, and Under Armour designer Dave Dombrow down here.