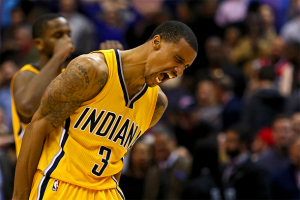 The Indiana Pacers appeared like a franchise well on its way to locking up a postseason berth after ripping off 13 wins in 15 contests.
Behind point guard George Hill, the defending Eastern Conference regular season champions climbing to the No. 6 seed while the Milwaukee Bucks continued to falter appeared to be a realistic thought.
Just about three weeks later, however, Frank Vogel's team has dropped seven of nine outings and is fighting for the final playoff position in a lackluster conference.
As it stands, the Pacers hold a 32-41 record, a half-game back of the Boston Celtics and Brooklyn Nets—who are tied for eighth place in the East—and a single game ahead of the Charlotte Hornets. What's more, Indiana trails the Miami Heat by just two games.
Fortunately—or perhaps unfortunately—for the Pacers, the next week will help determine whether or not Indiana can squeak its way into the second season.
"The Return [of Paul George] can wait," Candace Buckner of the The Indianapolis Star said. "The biggest week, the most important moment of the Indiana Pacers' season, begins in a matter of days. And it has nothing to do with waiting on their recovering star to make his long-awaited comeback."
The Pacers are set to enter a road back-to-back against Brooklyn on March 31 and Boston on April 1 before hosting Charlotte on April 3 and Miami on April 5.
"It's an appropriate time to have a situation like this, during March Madness," Vogel said, per NBA.com. "But that's the kind of feel that it has. You gotta win all these games and a lot will be decided with these head-to-heads."
Boston shooting guard Evan Turner believes Indiana will come ready to play.
Turner on playing the Pacers on Wednesday: "Obviously this next game is a big game because they're trying to do the same thing we are."

— Boston Celtics (@celtics) March 31, 2015
Though Vogel said Indiana needs to "focus on the one team" it's playing next, the Pacers need to show up four straight times this week.
Their four biggest competitors will each occupy the adjacent sideline, and that's simply impossible to overlook. Indiana will not have a better opportunity to create separation in the Eastern standings.
But if the Pacers falter during their most important week of the 2014-15 campaign, their once-promising comeback will swiftly become a distant, forgettable memory.
In addition to his work for The Hoop Doctors, David Kenyon contributes to Bleacher Report and Sportsnaut. You can follow him on Twitter: @Kenyon19_BR.