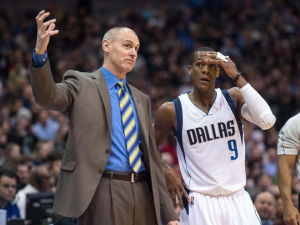 In the Maverick's 99-92 victory over the visiting Raptors on Tuesday night, things got heated between point guard Rajon Rondo and Mavs head coach Rick Carlisle. They were clearly seen to be arguing with one another during a timeout and both sides ended up shouting before going their separate ways. It wasn't a surprise that this situation led to Rondo's benching for the final 20 minutes of the game.
Please enable Javascript to watch this video
Well the most important thing her is that they won the game, despite this heated exchange that may have strained their relationship for a few minutes. This isn't the first time Rondo has pushed the buttons of his Head Coach, and it probably won't be the last. If you think of point guards as the quarterback of the team, basketball coaches don't like audibles, therefore there is destined to be friction from time to time.
Brad Townsend of The Dallas Morning News:
Carlisle calls heated exchange with Rondo an "emotional moment" and "difference of opinion," says it's over as far as he's concerned.

— Brad Townsend (@townbrad) February 25, 2015
Rajon Rondo wouldn't answer questions. "Discuss with Rick."

— Tim MacMahon (@espn_macmahon) February 25, 2015
Both Rondo and Carlisle arguably have issues with one another, which is normal in this league—but their relationship with one will is crucial for the success of the team and it'll be interesting to see how they'll both move past this minor incident.
Benjamin Felix Santos is currently a senior college student from Manila, PH. An aspiring NBA writer, who bleeds the purpleand gold. His love and passion for the game will never die.
Follow @biefsantos