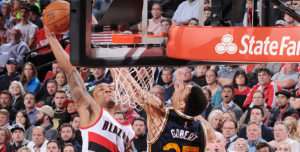 On Tuesday night, the Portland Trailblazers managed to hold off the resilient Jazz team for a 103-102 victory, which handed them their 33rd win of the season. Unsurprisingly, Damian Lillard led the way with 25 points, while for the Jazz—it was Gordon Hayward with his game-high of 27 points. Also, Robin Lopez made his return for the Blazers after missing 23 games due to a fractured right hand.
Lopez's return was undoubtedly good news for the Blazers, however, his return was overshadowed by Lillard's remarkable performance, especially when he drove the lane and elevated for a vicious slam dunk over the contesting 7-foot center Rudy Gobert of the Jazz. Do you think he had an image of Adam Silver and the league's Coaches in his head when he threw this one down?
Please enable Javascript to watch this video
That was nasty. Gobert may have to start thinking twice in trying to deny Lillard from now on.
Benjamin Felix Santos is currently a senior college student from Manila, PH. An aspiring NBA writer, who bleeds the purple and gold. His love and passion for the game will never die.
Follow @biefsantos