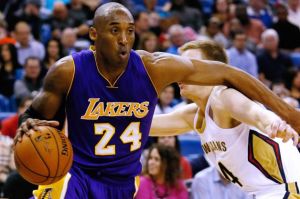 On Wednesday night against the Pelicans, Kobe Bryant apparently hurt his right shoulder after driving for a slam dunk during the third quarter. Many thought he would not return to the game, but to our surprise—he did.
With five minutes remaining in the final period and the Lakers down by 13 points, Kobe returned and showed us his ambidextrous game by nailing a contested turnaround jumper with his left-hand.
Please enable Javascript to watch this video
We all know Kobe can play really well even with his left hand, but at his age right now, it truly is amazing how he can still pull off and entertain us with shots like this.
Benjamin Felix Santos is currently a senior college student from Manila, PH. An aspiring NBA writer, who bleeds the purple and gold. His love and passion for the game will never die.
Follow @biefsantos