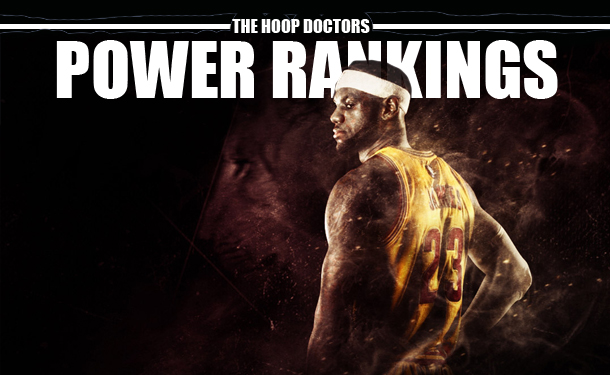 There's something truly zany about the 2014-15 NBA season.
It's been weird. It's still weird. It's truly, utterly, completely, wholly, wonderfully, purely, perfectly zany.
Allow me to offer up Exhibit A: These here power rankings.
Collective movement is neither enormous nor insubstantial. There is virtually no change at the top. But then we get into the middle, and shit gets different. And then we near the end, where things start to stabilize.
All of which makes for the wackiest, most uneven power rankings yet—one that accounts for the Spurs finally Spurs-ing, the Hawks ruling the world, the Warriors destroying everyone, the Cavaliers finding that there is life on Planet Cleveland, the Blazers slogging through all kinds crap and so much more.
And so, on that note, we shove on, like boats beating against the current, or a serial masturbator seizuring on top of a blow-up doll.
To the power rankings 18-wheeler!
*Welcome back to The Hoop Doctors' PG-13 NBA Power Rankings, where almost anything goes. Language may sometimes not be suitable for those reading at work, in which case I recommend you don't read these aloud or you get a new job. Like most PG-13 movies, we'll permit one F-bomb per post. Those devoid of a sense of humor need not proceed.
***For a week by week list of all our NBA Power Rankings this season, please visit this page.
NBA Power Rankings
| | |
| --- | --- |
| 1 | |

Golden State Warriors

Nothing has changed in Oakland. The Warriors are still historical. Fin.

Last Week (1)

| | |
| --- | --- |
| 2 | |

Atlanta Hawks

Almost catapulted the Hawks to No. 1, but this team isn't there. Not yet anyway. The fact that we must entertain otherwise, though, is a high form of acclaim in itself.

Last Week (2)

| | |
| --- | --- |
| 3 | |

Portland Trail Blazers

Here's hoping LaMarcus Aldridge's injury isn't serious.

Here's also hoping the Spurs don't steal him in free agency.

Last Week (3)

| | |
| --- | --- |
| 4 | |

Houston Rockets

James Harden is the bearded badass that could.

Last Week (4)

| | |
| --- | --- |
| 5 | |

Dallas Mavericks

The only thing standing between the Mavericks and an NBA championship is, well, roughly six to seven teams more qualified to win said championship.

Last Week (5)

| | |
| --- | --- |
| 6 | |

Memphis Grizzlies

My skepticism of the Grizzlies continues. Why? I cannot explain it. Not fully. Their offense seems to be playing above its head.

Last Week (6)

| | |
| --- | --- |
| 7 | |

San Antonio Spurs

THE SPURS ARE COMING.

Last Week (12)

| | |
| --- | --- |
| 8 | |

Washington Wizards

Still think this team has underachieved. That being said, John Wall is fantastically fiend-ish.

Last Week (7)

| | |
| --- | --- |
| 9 | |

Phoenix Suns

Clearly the Suns are on to something. They're not going to make the playoffs, of course, but they're still on to something. A little offseason patchwork should allow them to take that final leap.

Last Week (9)

| | |
| --- | --- |
| 10 | |

Cleveland Cavaliers

Okay, I'm going to say this again, because I believe it: Don't expect to see Cleveland fall outside the top 10 for the rest of this season.

Last Week (17)

| | |
| --- | --- |
| 11 | |

Oklahoma City Thunder

Please, oh please, let Brook Lopez wind up on the Thunder.

Last Week (15)

| | |
| --- | --- |
| 12 | |

Toronto Raptors

I'd say Toronto's defense is scary bad, but that would imply it exists.

Last Week (10)

| | |
| --- | --- |
| 13 | |

Los Angeles Clippers

Question: Is it wrong that I'd rather see the Suns in the playoffs over the Clippers?

Last Week (11)

| | |
| --- | --- |
| 14 | |

Chicago Bulls

Something's wrong in Chicago, and this time it's not Derrick Rose's knees. It's the effort—specifically on defense.

Last Week (8)

| | |
| --- | --- |
| 15 | |

Detroit Pistons

Stan Van Gundy is the Pat Riley of shitty rosters. Chew on that.

Last Week (16)

| | |
| --- | --- |
| 16 | |

Milwaukee Bucks

Really hoping the Bucks buy out Larry Sanders, who would then sign with the Cavaliers.

Last Week (14)

| | |
| --- | --- |
| 17 | |

New Orleans Pelicans

Jrue Holiday's latest injury means only one thing: God is jealous of Anthony Davis.

Last Week (13)

| | |
| --- | --- |
| 18 | |

Charlotte Hornets

If the Hornets wise up and move Lance Stephenson to the second unit, they could be sneaky dangerous.

Last Week (21)

| | |
| --- | --- |
| 19 | |

Miami Heat

Watching Chris Bosh, the franchise megastar, feels a lot like watching Chris Bosh, LeBron James' shoe sheriff.

Last Week (18)

| | |
| --- | --- |
| 20 | |

Brooklyn Nets

Trade everyone, Brooklyn. Please. BroLo to the Thunder, Joe Johnson to the Hornets, Jarrett Jack to the Pelicans and Deron Williams to whomever is desperate enough (Kings?).

Last Week (23)

| | |
| --- | --- |
| 21 | |

Sacramento Kings

Sacramento is four more DeMarcus Cousinses away from contention.

Last Week (20)

| | |
| --- | --- |
| 22 | |

Utah Jazz

That Rudy Gobert is not in the dunk contest makes me sad.

Last Week (25)

| | |
| --- | --- |
| 23 | |

Orlando Magic

Can we fast-forward three, maybe four, years into the future? To when the Magic are really good?

Please?

Last Week (24)

| | |
| --- | --- |
| 24 | |

Boston Celtics

Marcus Smart is making the Celtics look, well, you know…

Last Week (26)

| | |
| --- | --- |
| 25 | |

Denver Nuggets

Let's get this fire sale done and over with, shall we Denver? The world knows it's coming. It just has to be.

Last Week (17)

| | |
| --- | --- |
| 26 | |

Indiana Pacers

Talk about your fading faction. The Pacers have looked especially listless of late. I stand firm on the notion that they should try to sell high on David West.

Last Week (22)

| | |
| --- | --- |
| 27 | |

Los Angeles Lakers

Really hope Kobe Bryant plans on recruiting someone other than Rajon Rondo this summer. Like, anyone else, for instance.

Last Week (27)

| | |
| --- | --- |
| 28 | |

Minnesota Timberwolves

Andrew Wiggins > Every other NBA rookie.

Last Week (30)

| | |
| --- | --- |
| 29 | |

New York Knicks

Beating the Sixers only proves the Knicks aren't the best at anything—not even contrived crapfests.

Last Week (29)

| | |
| --- | --- |
| 30 | |

Philadelphia 76ers

Sam Hinkie drives a tank better than Phil Jackson.

Last Week (28)