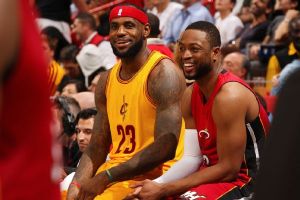 Can't believe we're talking about this, but here it goes.
As (probably baseless) rumors circulate about LeBron James' future with the Cleveland Cavaliers, there has been limited uproar about some words he possibly shared with Dwyane Wade on Christmas Day.
Below is a the video that started everything. Start watching around two and a half minutes in:
A Reddit poster then transcribed what he thought he heard (h/t SI.com):
Listen to this link carefully – Did LeBron say to Wade on Christmas: "Like I said, if we aren't better this year, we're gonna re-unite again and do some bigger and better things, alright?"
Daaaaaamn.
Upon listening to the video a second time, that's exactly what it sounds like LeBron said. But did he actually say that? Or are we just hearing what we want to hear?
LeBron thinks it's the latter, per the Akron Beacon Journal's Jason Lloyd:
James dismissed an internet video making the rounds Wednesday that seemed to show him and Dwyane Wade talking about a reunion.

The video, which James also watched, was difficult to hear clearly. But James seemed to say something about reuniting with Wade. When asked about it Wednesday, he said it had nothing to do with basketball.

"If I was going to tell him that, I'd tell him that the night before. I'm not stupid. I know I didn't go to college, but I'm not stupid," James said. "I wouldn't say that on Christmas with 100 cameras around. I would've told him the night before at his house. It had nothing to do with leaving here and reuniting with him. … Just talking on other things more than just basketball."
Usually I'm not a conspiracy nut, but what in the hell else would LeBron have been referring to if he actually said those words?
Most of us know LeBron isn't stupid. He's the smartest player in the game, from how he secured himself championships in Miami, to how he returned to Cleveland. He also brings up a good point: Why would he say the words in question then of all times, when a gazillion cameras are around and a bajillion people are watching? He wouldn't, because he's not that inane.
Still, the speculation, however crazy, won't die. Not until the Cavaliers right their tottering ship. So long as they're not the best team in the Eastern Conference, rumors will ensue to the point of ludicrous extravagance—even if LeBron himself speaks to the contrary. That's just how it works.
Welcome back to the first year of superteam basketball, folks.
Dan Favale is a firm believer in the three-pointer as well as the notion that defense doesn't always win championships. His musings can be found at Bleacherreport.com in addition to TheHoopDoctors.com.