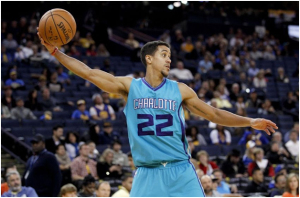 The Bobcats are teetering on the edge of the top 8 in the East and now that Kemba Walker has been declared out for up to six weeks, the team has another crappy situation to deal with. They're going to need somebody to pick up the slack if they are to remain relevant in the conference.
As of this writing, the NBA betting odds have the Bobcats priced at a staggering +25,000 to win the Southeast Division.
With Jannero Pargo still sidelined for at least another week as he continues to deal with a back ailment, the spotlight is now definitely on backup point guard Brian Roberts. It seems that Roberts has a penchant for getting a starting gig by way of an injured starter as just last season in New Orleans, he found himself taking over Jrue Holiday, who suffered a nasty tibia fracture. Roberts finished that season withaverages of 9.4 points and 3.3 assists in 72 games, starting in 42 of those.
Of course, no one expects Roberts to put up Kemba Walker numbers, but he's going to be good enough for Steve Clifford to trust. After all, it's not like Clifford has flexibility in the 1 position. Like we said, Pargo has yet to come back and even if he's ready, it doesn't make the position that much improved from where it is now. If anything, Gary Neal can moonlight as a point guard, but it's still going to be Roberts who's going to have the bulk of the duties.
In an interview with the Charlotte Observer, Roberts said, "Here's another opportunity for me to step up and help this team win games." He did just that in his first start as Walker's replacement, scoring 17 points and adding 3 assists in the 'Cats' 76-71 win over the Knicks on January 24.
Robert's a pretty decent outside shooter and with the increase in minutes he's going to see moving forward, he'll have a good shot at easing the loss of Walker's team-leading 1.3 threes per game. He owns a 37 percent clip from the outside this season.