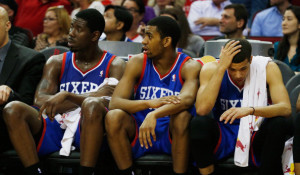 The Sixers have been the best team in the league when it comes to losing, and on Saturday night's 110-103 loss to the Dirk-less Mavericks, they took their losing streak to another level as they officially recorded their worst start ever in franchise history.
Also, the team's just only two losses away from tying the 2009-10 New Jersey Nets (0-18) for the worst start to an NBA season. Ever.
From Dei Lynam of CSN Philly:
Sixers fall to 0-16 to set franchise-worst start http://t.co/Sa8OnmLKLR #SixersTalk

— Dei Lynam (@dlynamCSN) November 30, 2014
The only bright spots from this dubious achievement, is their promising young stars—Michael Carter-Williams, K.J. McDaniels, Nerlens Noel and Tony Wroten (their leading scorer)—who all have been performing respectably well in most of their games.
Clearly, it'll be a while till we see Philadelphia become a threat in the east once again, as they are still in the early stages of a rebuilding process. Hopefully, the wait will be worth it for everyone, especially their fans, as the past few seasons have been very difficult to take in.
Hopefully, the Sixers can pull out a win real soon, but it'll most likely not happen in their next game on Monday, as they face the defending champion San Antonio Spurs.
Benjamin Felix Santos is currently a senior college student from Manila, PH. An aspiring NBA writer, who bleeds the purple and gold. His love and passion for the game will never die.
Follow @biefsantos