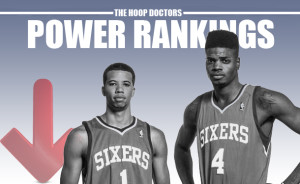 The NBA's Eastern Conference is ugly.
The NBA's Western Conference, meanwhile, is pretty flipping fantastic.
This will now conclude the portion of the article where we talk about anything besides the 76ers' suckitude.
Well, not really. There are loads of other things to discuss. Like the Warriors being incredible. And the Grizzlies drinking from the Warriors' Gatorade cooler. And the Knicks playing like the Sixers. And the Spurs being the Spurs. And the Hornets playing like the Bobcats. And the Pistons forever playing like they've scarfed down six pounds of trans-fat-loaded nachos in between every whistle.
All of that is in here. Other things, too. But allow us to pay special attention to those Sixers, who have won only one game. They are tanking. Diplomatic use of the word "allegedly" isn't appropriate here. There is no time for it, no place for it. The Sixers are tanking, and they're doing so terrifically. I can't decide whether I should pat Sam Hinkie on the back for foisting such a masterful tank job or take a sledgehammer to his groin for subjecting us to such terrible basketball.
Anyhow, it's time for the question of the week—the one on which you will harp while perusing these rankings: Will the Sixers piece together a second victory before the end of the world?
*Welcome back to The Hoop Doctors' PG-13 NBA Power Rankings, where almost anything goes. Language may sometimes not be suitable for those reading at work, in which case I recommend you don't read these aloud or you get a new job. Like most PG-13 movies, we'll permit one F-bomb per post. Those devoid of a sense of humor need not proceed.
***For a week by week list of all our NBA Power Rankings this season, please visit this page.
NBA Power Rankings
| | |
| --- | --- |
| 1 | |

Golden State Warriors

Allow me to pose a counter question to the headline: Will the Warriors ever lose again?

Last Week (1)

| | |
| --- | --- |
| 2 | |

Memphis Grizzlies

Memphis' defense has always floated amongst the stars and various galaxies, but its offense is now there too. And it's yet to come back down to Earth, despite an over reliance on Marc Gasol and a rather archaic shot selection. Yes, that's confusing. No, we shouldn't care right now.

Last Week (2)

| | |
| --- | --- |
| 3 | |

San Antonio Spurs

TOLD YA THEY WOULD BE FINE.

Last Week (6)

| | |
| --- | --- |
| 4 | |

Houston Rockets

Really hoping the Rockets fix their bottom-10 offense. Even with Dwight Howard, Patrick Beverley and Trevor Ariza, there's no way their third-ranked defense holds all year.

Last Week (4)

| | |
| --- | --- |
| 5 | |

Dalla Mavericks

Still, albeit barely, on pace for the highest offensive rating in NBA history. Dallas' defense, meanwhile, hasn't been as bad as advertised. This could be a scary team come April.

Last Week (7)

| | |
| --- | --- |
| 6 | |

Portland Trail Blazers

One team in the NBA boasts a top-five offense and defense: These Blazers.

Last Week (5)

| | |
| --- | --- |
| 7 | |

Toronto Raptors

So long as DeMar DeRozan is out, the balanced and impressive Raptors stand to plummet down this ladder.

Last Week (3)

| | |
| --- | --- |
| 8 | |

Cleveland Cavaliers

Take a moment to reflect on this: The Cavaliers own a fourth-ranked offense that has barely cracked the surface of its potential. Be afraid. Be very afraid.

Last Week (13)

| | |
| --- | --- |
| 9 | |

Los Angeles Clippers

Not at all impressed by the Clippers just yet. Still, it's worth noting that they've won 70 percent of their games and are on pace to finish seventh in the Western Conference. SEVENTH.

Last Week (11)

| | |
| --- | --- |
| 10 | |

Washington Wizards

It's only a matter of time before Washington sits atop the East. Said sitting will be temporary, but still…

Last Week (10)

| | |
| --- | --- |
| 11 | |

Chicago Bulls

The Bulls have been simultaneously awesome and blah. The longer they stay healthy, the more awesome they'll be, the less blah they'll subject us to.

Last Week (12)

| | |
| --- | --- |
| 12 | |

Phoenix Suns

There isn't a more turbulent offensive attack in the league right now than what the Suns are running.

Last Week (9)

| | |
| --- | --- |
| 13 | |

Sacramento Kings

On any given night the Kings can field an elite offense or defense. They are never running both at the same time, though. That's their season in a nutshell.

Last Week (9)

| | |
| --- | --- |
| 14 | |

Denver Nuggets

Looks like they've figured things out. Even so, it wouldn't be a bad idea to consolidate some of their assets in search of a star.

Last Week (18)

| | |
| --- | --- |
| 15 | |

Atlanta Hawks

Mediocre and loving it—mostly because mediocre is the equivalent of a world-beater in the Eastern Conference.

Last Week (15)

| | |
| --- | --- |
| 16 | |

New Orleans Pelicans

Imagine if the Pelicans played in the Eastern Conference…

Last Week (14)

| | |
| --- | --- |
| 17 | |

Miami Heat

Might Miami ever insert itself into the East's top-four conversation?

Last Week (16)

| | |
| --- | --- |
| 18 | |

Milwaukee Bucks

Slowly, surely the Bucks are returning to solid ground. Their defense is still sound, but their offense is broken.

Last Week (17)

| | |
| --- | --- |
| 19 | |

Brooklyn Nets

Brooklyn would be a great team if it could play the Knicks every night.

Last Week (21)

| | |
| --- | --- |
| 20 | |

Indiana Pacers

If the Pacers ever get semi-healthy and then stay semi-healthy, their defense may sneak them into the playoffs.

Last Week (19)

| | |
| --- | --- |
| 21 | |

Oklahoma City Thunder

Kevin Durant and Russell Westbrook are back, so, you know, what the hell.

Last Week (28)

| | |
| --- | --- |
| 22 | |

Orlando Magic

Not surprisingly, the Magic's offense has been bad. Sort of makes you think that Tobias Harris won't be coming back next year.

Last Week (20)

| | |
| --- | --- |
| 23 | |

Los Angeles Lakers

That the Lakers rank ninth in offensive efficiency really attests to Kobe Bryant's superhuman mystique.

Last Week (25)

| | |
| --- | --- |
| 24 | |

Boston Celtics

Sigh. So much for the Celtics potentially creeping into the Eastern Conference playoffs and screwing with Danny Ainge's rebuild.

Last Week (23)

| | |
| --- | --- |
| 25 | |

Utah Jazz

Thought the Jazz might surprise some people this year. Instead, I'm surprised at how damn awful their defense is these days.

Last Week (22)

| | |
| --- | --- |
| 26 | |

Minnesota Timberwolves

Battered, bruised and browbeaten, the Timberwolves can still find solace in one thing: They look like more of a basketball team than the Knicks.

Last Week (27)

| | |
| --- | --- |
| 27 | |

New York Knicks

Words cannot do the Knicks' downturn justice. Watching them, however, will. Their defensive schemes aren't bad, their personnel simply sucks. The offensive game plan sucks, too. The triangle can be manipulated to include pace and pick-and-rolls, but the Knicks have opted for the more subtle "We're not going to make adjustments no matter how shitty we look" approach. Let's see how that works out for them.

Last Week (26)

| | |
| --- | --- |
| 28 | |

Charlotte Hornets

You can take the name and logo off the jersey, but you can't take the Bobcats out of Charlotte.

Last Week (24)

| | |
| --- | --- |
| 29 | |

Detroit Pistons

Hot damn, the Pistons are bad. Stan Van Gundy's magic isn't enough for this team. Detroit needs to blow shit up.

Last Week (29)

| | |
| --- | --- |
| 30 | |

Philadelphia 76ers

Will the Sixers ever win again?

"They sure as hell better not." -Sam Hinkie

Last Week (30)