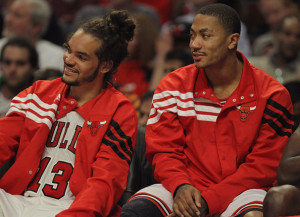 The Chicago Bulls had to do some roster shuffling again on Friday night, but it didn't appear to effect the team what so ever. In the Bulls 118-115 victory over the Philadelphia 76ers, one player returned to the starting lineup, while another sat out again.
Center Joakim Noah was back on the floor after missing the last two games due to a bout with influenza. The eight-year veteran was listed as "questionable" on the teams injury report on Thursday night. Guard Derrick Rose sat out again as he continues to recover from dual sprained ankles.
Rose, who played against Milwaukee on Wednesday, was also listed as questionable. He's only played once since injuring those ankles against the Cleveland Cavaliers back on Holloween. In Philadelphia Kirk Hinrich started for Rose.
The former Kansas standout scored 13 points and dished out seven assists in his fifth start of the season (third start in place of Rose). He's averaging 11 points per contest this season, and has shown his flexibility by being able to play both the point guard and shooting guard positions.
Noah on the other hand is trying to get back into game shape. Despite playing 31 minutes in Philly, Noah only contributed with five points, nine rebounds and two assists. Considering the flu virus compromises ones immune system, it may take a game or two for Noah to get back to full strength and get his legs back underneath him.
Unfortunately neither player will have too much time to rest as the Bulls will take the court again on Saturday night. They'll return home to the United Center to take on the Boston Celtics.
Follow me on Twitter @GabeSalgado82