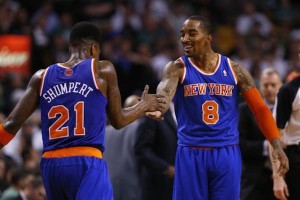 Phil Jackson and the New York Knicks have been busy this offseason and they might not be done just yet.
A league source told ESPN New York's Ian Begley that the Knicks are exploring trades for J.R. Smith, Iman Shumpert and Shane Larkin:
Working to clear the logjam in the backcourt, the Knicks are discussing their potential trade options with guards J.R. Smith, Iman Shumpert and Shane Larkin, a league source said Sunday.

"They're working on trying to make a move in the backcourt," the NBA source familiar with the Knicks' thinking said Sunday.

The idea that the Knicks are trying to make a trade to balance the roster isn't earth-shattering. President Phil Jackson and GM Steve Mills have mentioned the Knicks have a surplus in the backcourt, with Mills saying last week the Knicks are "heavy" at shooting guard.
First, another quick takeaway from Begley's report: Tim Hardaway Jr. has been labeled "virtually" untouchable. That's how you know things are weird in New York right now. A sophomore? Untouchable? In New York? Weird.
In what is becoming a common but still-difficult-to-grasp twist, the Knicks' thinking here actually makes sense. They have a glut of guards and could stand to open up that logjam in attempt to avoid minutes-managing headaches.
Trading Larkin, a former first-round pick and intriguing prospect, won't be embraced by everyone, but the Knicks have Jose Calderon and Pablo Prigioni, two veterans who are better suited to run Jackson's famed triangle offense. Larkin can get into the paint and is incredibly explosive, but his shooting is suspect and New York's system won't call for that kind of aggression.
Still, he's cheap labor and showed flashes during his summer-league stint, so don't expect the Knicks to move him unless it's in a deal that lands them a high-impact player. Shumpert and Smith will be the trade focal points.
The former will be easy to move. Shumpert is wildly inconsistent on the offensive end, but he's established himself as an active defender. Interested teams also have the option of parting ways with him in restricted free agency next summer.
At the same time, Shumpert's contract situation can be a deterrent. Interested teams have to trade for him while using him as a one-year rental or intending to sign him to a new, long-term contract next summer.
Acquiring Smith might be simpler. The Knicks won't be looking for any real value in return since Smith—who holds a player option next season—could eat into their cap space for summer 2015. Though he's a wild card, Smith can also be instant offense and any new marriage doesn't have to last longer than two years.
What the Knicks ultimately decide to do is anyone's guess. Preferences will vary by potential return and circumstances; who they trade will be determined by who and what they can get.
All that's really known now is the Knicks are shopping guards. And, for the first time in a long time, they're shopping those who haven't been deemed immovable.
Dan Favale is a firm believer in the three-pointer as well as the notion that defense doesn't always win championships. His musings can be found at Bleacherreport.com in addition to TheHoopDoctors.com.