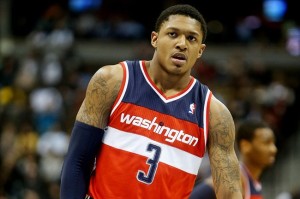 Each year, Gatorade recognizes high school student-athletes, for excelling both academically and athletically, in the form of a Player of the Year award for their respective sport. Last week in Los Angeles, Gatorade held their annual Athlete of the Year award where Karl Towns, Jr. and Brianna Turner walked away with the award for the boys and girls respectively.
The Hoop Doctors have been fortunate to cover the event for the past several years and this year was no different. On hand for this event were two former winners, Brad Beal of the Wizards and Brandon Knight of the Bucks. Both Beal and Knight have developed into fine young NBA players and a great representation of this prestigious award.
We had the chance to talk to both about Gatorade and their NBA experiences so far. At the end of the Beal interview, he beautifully summarizes just how special this award is and what it means to both he and Knight.
Please enable Javascript to watch this video
Please enable Javascript to watch this video