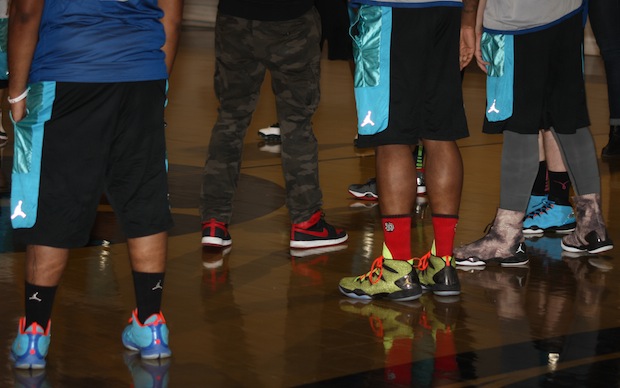 On April 1st in NYC, the guys from RUVILLA hosted their first ever VILLA Invitational basketball tournament at the Jordan Terminal 23 training facility is in New York City designed for Carmelo Anthony and the release of the Jordan Melo M10, his 10th signature sneaker with Jordan Brand.
For those unaware, RUVILLA started as a brick-and-mortar store in 1989 and expanded to multiple stores around the country and celebrating their 25th anniversary this year. 2013 was the start of their e-commerce site which allowed for buying online. The VILLA name is really making waves these days thanks very largely to their unique collaborations with brands.
In a literal down to the wire game, the Home (grey) team defended their court with a win against the Away (blue) squad. Affectionately titled 'The Bullies', myself alongside 8 other basketball & sneaker media members lived up to our name with aggressive defense (I had several steals) and smart, calculated basketball towards the end (personally had a few turnovers as well). After playing two 20-minute halves, we pulled out a 38-36 win.
A big thanks goes out to the Ruvilla for setting up the game and having me over. Thanks also goes out to Jordan Brand for their residency of the space, Game Seven Marketing for court logistics, and Carmelo Anthony for being in NYC which brought the court within a bus/train ride for me from Jersey.