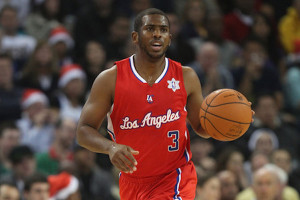 Sunday was just the beginning for the Los Angeles Clippers.
One day after TMZ released audiotape of owner Donald Sterling allegedly making racist remarks, the Clippers took the floor against the Golden State Warriors. They took it in symbolic fashion, leaving their warmups at half court. What came next wasn't pretty.
The Clippers were pummeled by the Warriors, 118-97. Chris Paul battled foul trouble, DeAndre Jordan was a non-factor and their offense was out of sync, an uncharacteristic mixture of indecision and abrupt three-pointers. And still, it was only just the beginning.
On Tuesday, the Clippers travel back to Staples Center, the series tied 2-2. They will be met by their fans for the first time since this debacle took center stage, and there's no telling what kind of greeting they will receive. Paul even admitted he was nervous about their homecoming, according to the Los Angeles Daily News' Mark Medina:
I would by lying if I said I wasn't nervous about what it is going to be like because our fans have been amazing all season long and, obviously, I hope that it will be the same. You just never know. They've been amazing, and we wouldn't be where we are without them. But it's tough.
Indeed, it is tough. It's tough on the players, tough on the coaches and tough on the fans. What is the latter supposed to do? People should be smart enough to differentiate between their team's goals and the wretched views of its owner, but attending games and cheering on the Clippers can be construed as tacit enabling so long as Sterling is in charge.
At the same time, these are most likely tickets fans have already paid for. Sterling is already going to get the money. What is there to be accomplished by skipping the game or booing players? Nothing.
Fans have a right to be angry. They should be angry. They should be livid. But the players have made the decision to continue to playing, and they need support. Rooting for them isn't condoning Sterling's reprehensible behavior. He is not the team.
For the most part, the Clippers have succeeded in spite of Sterling. Paul isn't with the Clippers because of him. Neither is Doc Rivers. Or J.J. Redick. He may foot the bill, but he's not the reason they're contending for championships. The Clippers are good in spite of him and his notoriously cheap, corner-cutting ways.
To support them now isn't an admission that what Sterling likely said is okay. It's not okay. It's not fine. Long term, the NBA must find a way to strip him of ownership. They must.
In the spirit of just that, fans should protest however they want next season. Don't buy tickets or merchandise. Don't acknowledge the Clippers' existence if you see fit. It would be unfortunate for the players, but they would have to understand.
Right now, though, they deserve support. This was an unforeseen obstacle that presented itself at the most inopportune time. For now, that shouldn't be their problem.
Next season, maybe. But not now. They deserve a warm welcome, a loud welcome. They deserve everything Sterling doesn't—our respect and the support of their fans.
Dan Favale is a firm believer in the three-pointer as well as the notion that defense doesn't always win championships. His musings can be found at Bleacherreport.com in addition to TheHoopDoctors.com.