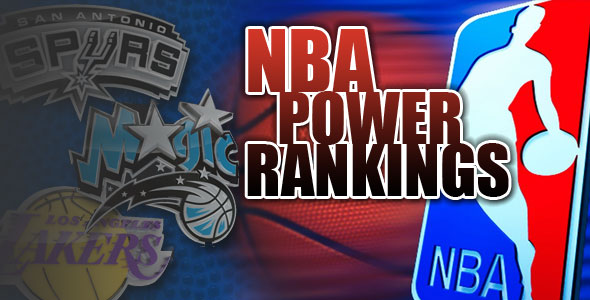 March Madness, here the NBA comes.
While many of you remain transfixed on your television screens, waiting to see how long it takes before Wichita State gets screwed by vengeful and begrudging bracketing practices, some of us still care about the NBA. And its playoff race. And whether or not LeBron James can win another MVP award. And other things.
See, March matters in the NBA too. Things happen. Postseason hopes crumble. Championship dreams are realized. Kyrie Irving goes down. Dwyane Wade pops up. The Philadelphia 76ers forget how to spell "winning," "offense" and "string cheese." Phil Jackson willingly—we think—accepts an offer to work with one of the most embattled franchises in all of sports, the Dallas Cowboys New York Knicks.
That's a lot of stuff, yet it's just the surface of everything that's happening.
The playoffs are almost here. Think about that. Above all else, the playoffs are almost here. The tank-tastic draft is that much closer.
Power rankings are that much more important, if only because they serve as an escape from your broken-down, completely wrong, money-draining, respect-rumpling, ego-razing March Madness Bracket.
Shed tears no more, The Hoop Doctors has you covered—unless you're a Detroit Pistons fan. Then I have absolute no words of solace to offer you.
**Welcome back to The Hoop Doctors' PG-13 NBA Power Rankings, where almost anything goes. Language may sometimes not be suitable for those reading at work, in which case I recommend you don't read these aloud or you get a new job. Like most PG-13 movies, we'll permit one F-bomb per post. Those devoid of a sense of humor need not proceed. 
***For a week by week list of all our NBA Power Rankings this season, please visit this page.
NBA Power Rankings
| | |
| --- | --- |
| 1 | |

San Antonio Spurs

Time to get this out of the way now: The Spurs are fuckin' good.

Last Week (1)

| | |
| --- | --- |
| 2 | |

Los Angeles Clippers

Only thing that could make this season better is if Kobe Bryant started dressing in Clippers red and blue through April.

Last Week (3)

| | |
| --- | --- |
| 3 | |

Miami Heat

Miami sees the appearance of lethargy, and raises it one pissed off LeBron.

Last Week (5)

| | |
| --- | --- |
| 4 | |

Indiana Pacers

Despite the uptick in stock, Indiana continues to play as if it's being fed shit stew along with shit-flavored water followed by shit-infused cake for dessert.

Last Week (8)

| | |
| --- | --- |
| 5 | |

Golden State Warriors

Calling it now: Warriors will be heavily, perhaps unrealistically, linked to Kevin Love trade rumors this summer.

Last Week (7)

| | |
| --- | --- |
| 6 | |

Memphis Grizzlies

These sonuvabitches are going to make life difficult on someone in the first round.

Last Week (6)

| | |
| --- | --- |
| 7 | |

Oklahoma City Thunder

Seems to me like the Thunder are suffering from a bad case of disinterest, otherwise known as "the Miami Heat."

Last Week (4)

| | |
| --- | --- |
| 8 | |

Houston Rockets

So the Rockets plan on chasing Carmelo Anthony, eh? Do they also plan on manufacturing a cure for overly ambitious plans that have little chance of happening?

Last Week (3)

| | |
| --- | --- |
| 9 | |

Dallas Mavericks

Dirk Nowitzki and Monta Ellis are going to make the Mavs a fun first-round out.

Last Week (11)

| | |
| --- | --- |
| 10 | |

Brooklyn Nets

No Kevin Garnett is no bueno. At least Paul Pierce is playing like an enfeebled veteran injected with some sort of prolifically illegal substance.

Test him, Adam Silver.

Last Week (9)

| | |
| --- | --- |
| 11 | |

Washington Wizards

Happy for John Wall and the Wizards. They so deserve the first-round exit they've scrapped and clawed at tirelessly for the last half-decade.

Last Week (13)

| | |
| --- | --- |
| 12 | |

Portland Trail Blazers

Moving on up by default. Way to go, Portland.

Last Week (14)

| | |
| --- | --- |
| 13 | |

Toronto Raptors

Kyle Lowry needs to ensure that DeMar DeRozan stops taking shots in the final five minutes of regulation and overtime.

Last Week (10)

| | |
| --- | --- |
| 14 | |

Chicago Bulls

Few teams want to face the Bulls in the first round. Even fewer want to feel the wrath of a Joakim Noah who was just denied a chest bump.

Last Week (15)

| | |
| --- | --- |
| 15 | |

Phoenix Suns

Chances are, Phoenix isn't making the playoffs. So, not tanking was a bad idea.

Last Week (12)

| | |
| --- | --- |
| 16 | |

Charlotte Bobcats

If there was ever a team difficult to understand, it's the Bobcats. If there was ever a mid-range game to fear, it's Kemba Walker's.

Last Week (17)

| | |
| --- | --- |
| 17 | |

New York Knicks

Apparently, the Hawks aren't going to lay down on their backs like the promiscuous cheerleader we thought they were. That means if the Knicks want to make the playoffs, they must continue to help themselves. So, you know, uh oh.

Last Week (18)

| | |
| --- | --- |
| 18 | |

Minnesota Timberwolves

Watching the Timberwolves can be painful. They're pretty good, but also just bad enough you know there's no way in hell Love sticks around beyond next season.

Last Week (16)

| | |
| --- | --- |
| 19 | |

New Orleans Pelicans

Name one player you would trade Anthony Davis for.

LeBron? Yup.

Anyone else in the league? Nope.

#BrowGoesBoom

Last Week (20)

| | |
| --- | --- |
| 20 | |

Atlanta Hawks

This team is, well, it's weird. Pero Antic, though, is unequivocally awesome.

Last Week (25)

| | |
| --- | --- |
| 21 | |

Denver Nuggets

Brian Shaw's troops epitomize disappointment. On the bright side, Kenneth Faried is the emblem of everything right with Whoopi Goldberg haircuts.

Last Week (26)

| | |
| --- | --- |
| 22 | |

Cleveland Cavaliers

Losing Kyrie Irving is a tough break. Tougher break? Being a Cavs fan.

Last Week (23)

| | |
| --- | --- |
| 23 | |

Detroit Pistons

Detroit is bad. Very bad. So bad, Joe Dumars shouldn't just resign, he should run.

Last Week (19)

| | |
| --- | --- |
| 24 | |

Los Angeles Lakers

Really surprised Kobe didn't storm the podium of Jackson's press conference with the Knicks bearing Jim Buss' severed head, beckoning for the Zen Master to come join him in Los Angeles.


Last Week (21)

| | |
| --- | --- |
| 25 | |

Sacramento Kings

Sacramento is one top-five pick away from being a 30-win team.

Last Week (27)

| | |
| --- | --- |
| 26 | |

Utah Jazz

Seriously Jazz, pick. Either your pleasantly bad or absolutely atrocious. Stop going back and forth between the two.

Last Week (22)

| | |
| --- | --- |
| 27 | |

Boston Celtics

Rajon Rondo blames himself for this mess. I blame Vladimir Putin, Czar of assholes.

Last Week (22)

| | |
| --- | --- |
| 28 | |

Orlando Magic

Credit the Magic here. They've quietly lost six in a row. Ergo, they're quietly all Andrew Wiggins everything.

Last Week (24)

| | |
| --- | --- |
| 29 | |

Milwaukee Bucks

Has it dawned on anyone else that the Sixers could realistically lose 30 or more in a row and still not have as bad a record as the Bucks?


Last Week (29)

| | |
| --- | --- |
| 30 | |

Philadelphia 76ers

There's unlucky, there's deliberately non-competitive, there's tanking and there's apocalyptically awful. And then there's 50 feet of crap. And then there's the Sixers.

Last Week (30)