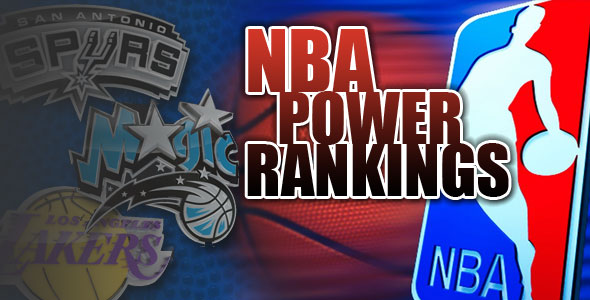 Welcome to the rest of  the NBA season.
With the All-Star break in our rear-view mirror, things are starting to get serious. They're heating up. The Heat are heating up.
Playoff berths and positions are on the line as the Association prepares for the latter quarter of its campaign. And so is lottery order, which is just as important as actually trying to win. Apparently.
Ahead of the Feb. 20 trade deadline we saw plenty of teams sell low (the Sixers, the Sixers, the Sixers and that's it. Oh wait, no, the Sixers, too.) all in the name of tanking for Andrew Wiggins, Jabari Parker, Joel Embiid, Dante Exum and whoever the hell else tops draft boards these days.
Not to say there weren't some improvements. The Pacers added Evan Turner and, well, yeah.
All right, so the trade deadline sucked. And so do the Knicks. And Sixers. The Cavs and Pistons are equally disgusting as well. Pretty much the whole Eastern Conference makes you want to hurl.
But there's solace to be found in Miami, where the Heat are once again the best team in basketball. And there's hope to be found in Los Angeles, outside the Lakers locker room, where the Clippers have reared their scary championship-contending head. The Thunder still have that guy Kevin Durant and despite recent struggles, remain primed for a deep playoff run, too.
I'll stop blathering on about the importance of playoff positioning and green vegetables, though. Power rankings are upon us, and unlike that sense of nausea we experience when watching the Bucks, they feel so, so (so) good.
**Welcome back to The Hoop Doctors' PG-13 NBA Power Rankings, where almost anything goes. Language may sometimes not be suitable for those reading at work, in which case I recommend you don't read these aloud or you get a new job. Like most PG-13 movies, we'll permit one F-bomb per post. Those devoid of a sense of humor need not proceed. 
***For a week by week list of all our NBA Power Rankings this season, please visit this page.
NBA Power Rankings
| | |
| --- | --- |
| 1 | |

Miami Heat

So I see we've reached the screw-you-all-there's-fewer-than-30-games-remaining-so-we're-actually-going-to-try-beating-you-bastards part of the season in Miami.

Last Week (2)

| | |
| --- | --- |
| 2 | |

Oklahoma City Thunder

This is no time to panic. Okay, this is the perfect time to panic.

Psych!

Last Week (1)

| | |
| --- | --- |
| 3 | |

Indiana Pacers

Something about this team doesn't feel right. Maybe it's the Pacers' offense. Or maybe it's Evan Turner's preferred scent of Mitchum deodorant.

No, you're probably right, it's the offense.

Last Week (3)

| | |
| --- | --- |
| 4 | |

Los Angeles Clippers

Great offense. Adequate defense. Look the fuck out.

Last Week (5)

| | |
| --- | --- |
| 5 | |

Houston Rockets

Lurking deep in the shadows, the Rockets have emerged as a legitimate Western Conference powerhouse.

That is, if the shadows are indeed a center-stage spotlight.

Last Week (4)

| | |
| --- | --- |
| 6 | |

Dallas Mavericks

Hey world, how does Mark Cuban's Dirk taste?

Last Week (9)

| | |
| --- | --- |
| 7 | |

Golden State Warriors

Expect big things from this team in the playoffs. Until then, prepare yourselves for more maddening offense and lockdown defense, along with hyperbolic statements from Mark Jackson that make you both want to pump your fist and slap him silly.

Last Week (13)

| | |
| --- | --- |
| 8 | |

San Antonio Spurs

There are good point guards, great point guards, a space-time-continuum-sized gap, and then Patty Mills.

Last Week (7)

| | |
| --- | --- |
| 9 | |

Memphis Grizzlies

Memphis looks one Jimmer away from really going places.

Last Week (6)

| | |
| --- | --- |
| 10 | |

Phoenix Suns

Relax, they're still overachieving. That said, how much would it suck if they don't make the playoffs and are stuck with multiple first-round picks, not one of which comes earlier than No. 14?

Last Week (8)

| | |
| --- | --- |
| 11 | |

Toronto Raptors

Anyone who hasn't watched the Raptors this season is missing out on Kyle Lowry powerfully shaming opposing defenses.

Last Week (11)

| | |
| --- | --- |
| 12 | |

Portland Trail Blazers

Defense? What's defense? Is it that springy thing inside a lightbulb? No, wait, is it that thing you use to cut grass? No, that's not it. It's that red thing used to stir coffee, isn't it?

Last Week (10)

| | |
| --- | --- |
| 13 | |

Charlotte Bobcats

All the Bobcats do is win. You know, the last four games or so.

Last Week (14)

| | |
| --- | --- |
| 14 | |

Chicago Bulls

Chicago remains a top-two defense, is playing above .500 basketball and is all but guaranteed a top-four playoff spot out East, yet Joakim Noah's hair is still the coolest thing about this team.

Last Week (12)

| | |
| --- | --- |
| 15 | |

Brooklyn Nets

Good for Jason Collins. Good for the Nets. Now let's move on to more pressing matters: What are the Nets going to do with all that free time following their first-round playoff exit?

Last Week (15)

| | |
| --- | --- |
| 16 | |

Minnesota Timberwolves

Watch out, here come the Timberwolves. Where are they going? Ninth or 10th place in the Western Conference, and the lottery. But still, watch out.

Last Week (16)

| | |
| --- | --- |
| 17 | |

Washington Wizards

Busting out the custom-made Drew Gooden Wizards jersey is 3, 2, 1…

Last Week (18)

| | |
| --- | --- |
| 18 | |

Sacramento Kings

How 'bout that? The Kings actually aren't shit-stained balls sickly for once.

Last Week (26)

| | |
| --- | --- |
| 19 | |

Utah  Jazz

This Marvin Williams-first-round pick business doesn't make sense. At all. Then again, neither does Utah having more than 10 victories.

Last Week (21)

| | |
| --- | --- |
| 20 | |

Atlanta Hawks

Mediocre basketball never looked so absent-minded and outright bad. Congrats, Hawks.

Last Week (19)

| | |
| --- | --- |
| 21 | |

New Orleans Pelicans

Please, please, please let the Pellies land a top-five pick so they can keep it and pair The Brow with someone else worth watching.

Last Week (16)

| | |
| --- | --- |
| 22 | |

Cleveland Cavaliers

Toyed with our emotions a little bit. Almost thought the Cavs were halfway decent and playoff-bound.

That'll teach us to expect anything other than the worst from Cleveland.

Last Week (20)

| | |
| --- | --- |
| 23 | |

Detroit Pistons

Thankfully, the NBA doesn't have a four-pointer, otherwise Josh Smith's long twos could become just-inside-half-court threes.

Last Week (23)

| | |
| --- | --- |
| 24 | |

New York Knicks

Theory: Maybe the Knicks are bad by design because the playoffs overlap with James Dolan's yearly running of the Ibexes in Siberia. #RealTalk


Last Week (22)

| | |
| --- | --- |
| 25 | |

Denver Nuggets

"I, for one, am proud of what the Knicks are doing." -Every Nuggets fan ever.

Last Week (24)

| | |
| --- | --- |
| 26 | |

Los Angeles Lakers

Have to say, the Lakers are fun to watch in a painful, I-don't-want-to-admit-it, tweezer-to-the-gonads kind of way.

Last Week (27)

| | |
| --- | --- |
| 27 | |

Orlando Magic

Nothing like having Kate Upton in the stands to remind you just how not pretty the Magic's offense is.

Last Week (28)

| | |
| --- | --- |
| 28 | |

Boston Celtics

Never mind their sing-shitty record. I'm more interested in Rajon Rondo making every life decision by asking himself "What would J.R. Smith do," from now on.

Last Week (25)

| | |
| --- | --- |
| 29 | |

Milwaukee Bucks

Oh my God. This must be what LeBron James felt like after winning his second straight NBA title.

Last Week (30)

| | |
| --- | --- |
| 30 | |

Philadelphia 76ers

Suck it, Bucks.

Last Week (29)