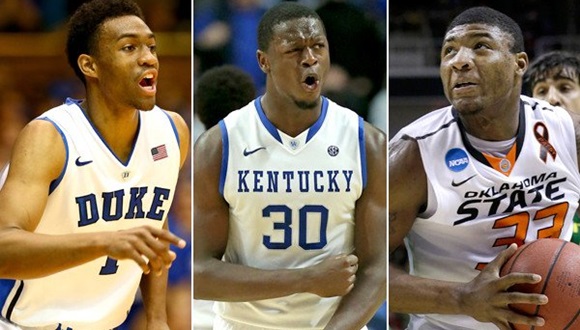 This year's prized crop of potential one-and-done immediate impact freshman like Andrew Wiggins, Jabari Parker, and Julius Randle have been every bit as good as expected.
What we didn't see coming is just how good some of the returning upperclassmen like Marcus Smart, Doug McDermott, and Shabazz Napier could be.
Players like Kansas freshman Joel Embiid and UCLA's fellow fab frosh Zach LaVine continue to rise as previously thought of Lottery picks Glenn Robinson III and Wayne Selden have slipped a bit.
Order of selection is determined by current NBA records, without considering trade or draft exceptions to this point.
These are only my choices and not the consensus picks of all of The Hoop Doctors writers, with that said here is my 2014 Mock Draft:Version 2.0:
Draft Order
College Team
Projection
Position
Physical

1.

Mil


 Duke
Jabari Parker

 SF/PF
6'8   235lbs   Freshman

Parker has surpassed both Wiggins and Randle to be the most prolific offensive weapon in the college ranks.  Many compare Jabari to Carmelo Anthony, which appears spot on.

2.

Utah


OK State

Marcus Smart

 PG/SG
6'4   220lbs   Sophomore

Smart made the right decision to return for his sophomore season, surprisingly getting even better as a perimeter shooter, defender, and leader, to be in the running for the top overall pick.

3.

Den

(from NY)


Kansas

Andrew Wiggins

 SF
6'8   200lbs   Freshman

Wiggins slips a bit, but still impresses scouts with his amazing athleticism and feel for the game at such a young age.  A recent career high 26 point effort has helped his cause but has yet to show the killer instinct to take over a game.

4.

Phi


 Kentucky
Julius Randle

 PF
 6'9   250lbs   Freshman
Randle remains a beast within the painted area, leading all NCAA players in double-doubles.  He has been individually brilliant but has not figured out how to make his teammates better with Kentucky already losing 3 games.

5.

BK


 Austrailia
Dante Exum

 PG/SG
6'6   200lbs   International

This year's International man of mystery reminds many of former NBA star Penny Hardaway because of his immense size at the PG position.  Most agree he will be a good one but has played no higher than the high school level overseas.

6.

Orl


Kansas

Joel Embiid

 C
7'0   250lbs   Freshman
One of the fastest risers this season, the legit 7 footer instantly reminds many of his idol Hakeem Olajuwon for his offensive repertoire of shakes and up-and-under moves.  he's still a project since he's only been playing hoops for 2 years but may have as much upside of any player.

7.

Cle


 Arizona
Aaron Gordon

 SF/PF
6'8   230lbs   Freshman

The jury is still out on what his NBA position will be but his athleticism, leaping ability, and defensive presence are not in question.  He's compared to a slightly smaller version of Blake Griffin and an ultimate key cog on the #1 team in the nation.

8.

Sac


 UCLA

Zach LaVine

 PG/SG
6'5   180lbs   Freshman

Perhaps no player is flying up the draft boards as fast as the ultra athletic freshman that reminds many of OKC Thunder PG Russell Westbrook.  He's a dunking phenom that has averaged nearly 14 ppg off the bench that will only get better.

9.

Chi


 Michigan St
Gary Harris

 SG
6'4   210lbs   Sophomore

Although there may be some concerns about some nagging injuries, Harris just might be the best all around shooting guard in the country.  The former HS football standout is tough as nails and has been clutch for the Spartans this season.

10.

LAL


 Indiana
Noah Vonleh

 PF/C
6'10   240lbs   Freshman

One of the nation's best freshmen, Vonleh has arguably been the Hoosiers' best player.  The natural power forward has a motor that reminds many of Dennis Rodman and is a defensive and rebounding force in the painted area.

11.

Bos


Kentucky

James Young

 SF
6'6   215lbs   Freshman

A naturally gifted southpaw shooter, Young has quietly been getting better as the season goes on and may emerge as the Wildcats' leading scorer by season's end.  If he stays another year to add more strength, he could be one of the nation's top offensive players.

12.

Det


Mich State
Adrien Payne

 PF
6'10   240lbs   Senior

Payne made the right choice to return to the Spartans for his senior season, making big strides in his mid-range shooting, rebounding, and focusing on being more of a leader.  His recent 33 point, 9 rebound effort against Texas proves he's one of the most gifted big men in the nation.

13.

Mem


 Creighton
Doug McDermott

 SF
6'8   225lbs   Senior

Undoubtedly the nation's most accomplished senior and offensive player, McDermott has picked up right where he left off last season, scoring 25+ppg and leading Creighton into their first season in the Big East.  His potential is all over the board as either the 2nd coming of Larry Bird or a 3 point specialist like Kyle Korver.

14.

Chi


 Syracuse
Jerami Grant

 SF
6'8   215lbs   Sophomore

Grant, the nephew of former NBA standout Horace Grant, has surpassed CJ Fair as Syracuse's best pro prospect.  He reminds many of 76ers forward Thaddeus Young as a do-it-all, hustling SF on the nation's #2 ranked team.

15.

Den


 Kentucky
Willie Cauley-Stein

 C
7'0   235lbs   Sophomore

Cauley-Stein has made great strides from his freshman season emerging as one of the nation's best shot-blockers.  Unfortunately his offensive game is still a work in progress but some have projected him as a Tyson Chandler type center at the next level.

16.

NO


Michigan

Glenn Robinson III

 SF
6'6   215lbs   Sophomore

Robinson started the year out slow but has gradually eased into his role as the Wolverines' best all around offensive player.  Michigan has struggles some this season but there is still time for Robinson to live up to potentially being a Top 10 selection by March.

17.

Tor


Kentucky

Andrew Harrison

 PG
6'5   215lbs   Freshman

Perceived bad body language has plagued both Harrison twins all season but Andrew has slowly started to pick up Coach Calipari's system and helped lead the Cats in a big win over rival Kentucky.  Despite his struggles he has prototypical size for PG at the next level.

18.

Min


Louisville
Montrezl Harrell

 PF
6'8   235lbs   Sophomore

Undoubtedly the Cardinals' best frontcourt player, Harrell's numbers will go up now that Chane Behanan has been dismissed from the program.  Despite being a tad undersized, Harrell is a beast down low that has been compared to Denver's Kenneth Faried.

19.

Was


Xavier
Semaj Christon

 PG
6'3   190lbs   Sophomore

Last season's A-10 Freshman of the Year has great size and ability for the next level but has struggled a bit his sophomore season.  He's a PG in a shooting guard's body but needs more seasoning and could be a Lottery selection if he returns for his junior season.

20.

Atl


 Duke
Rod Hood

 SF/PF
6'8   215lbs   Sophomore

After sitting out all of last season as a Mississippi State transfer, Hood has been brilliant as another talented frontcourt weapon for the Blue Devils.  He is a better rebounder and defender than Parker but will be a small forward in the NBA.

21.

Dal


 Louisville
Russ Smith

 PG/SG
6'0   170lbs   Senior

Last season "Russdiculous" was arguably the nation's hardest to guard players in leading Louisville to a National Title.  He remains an elite scorer but has become much more efficient and a better facilitator, which bodes well as he would have to be a PG in the NBA.

22.

GS


Croatia

Dario Saric

 PF
6'10   225lbs   International

This year's most intriguing International prospect, Saric has immense offensive potential that some have proclaimed him unfairly as the next "Dirk".  After withdrawing late from last year's draft, the 19 year old has excelled overseas, helping his club win the Croatian Championship and winning MVP honors.  He averaged an impressive 25.6 ppg in helping Croatia win the 2012 U-18 crown.

23.

Hou


Baylor
Isaiah Austin

 PF/C
7'2   220lbs   Sophomore

Austin has played well, leading Baylor to a Top 10 ranking, returning for his sophomore season.  He still remains thin and gets pushed around the low block but is an elite shot-blocker and has offensive skills to behind the 3 point line.  One can't teach size, and Austin's 7'2 frame is a commodity in the NBA.

24.

Pho


Syracuse
CJ Fair

 SF
6'7   215lbs   Senior

Fair has had a stellar senior season to this point emerging as a National Player of the Year candidate.  He has a high basketball IQ and just seems to be in the right place at the right time, leading Syracuse in scoring and helping them to a #2 ranking.

25.

LAC


 Michigan

Mitch McGary

 PF
6'10   265lbs   Sophomore

Mainly due to some nagging injuries, McGary's stock has slipped from the end of last season where he was once projected as a Lottery pick.  While his energy and tenacity is a given, his athleticism can be described as average at best.  Once thought of as a star player in the NBA, he now looks more to be a rebounding forward off the bench like DeJuan Blair.

26.

Mia


 Syracuse
Tyler Ennis

 PG
6'2   180lbs   Freshman

Ennis may wind up being the Orange's most important player as he should be in the conversation with Wiggins, Parker, and Randle as the best freshman in the country.  He plays like a senior, has a tremendous assist-to-turnover ratio, and has single-handedly helped lead his team to victory through his passing and defensive skills.

27.

Por


UNC

James Michael-McAdoo

 SF/PF
6'8   230lbs   Junior

McAdoo has been on the NBA's radar for 3 seasons now but despite having a prototypical NBA frame, he hasn't lived up to the hype of once being a Top 5 HS player.  He has had his moments, putting up 3 double-doubles but has also tallied single digits in 4 other games.  With PJ Hairston now gone from the program, now is the time for McAdoo to become UNC's leader.

28.

SA


Ok State

Markel Brown

 SG
6'3   190lbs   Senior

Much of the attention surrounding Oklahoma State has been focused on National POY Marcus Smart, but senior Markel Brown is an NBA caliber guard as well.  He has put in work from initially just being an elite dunker to one of the best scorers in the country.

29.

OKC


UConn

Shabazz Napier

 PG
6'1   185lbs   Senior

Napier is doing a spot on impersonation of former UConn standout Kemba Walker a few seasons ago.  He is one of the frontrunners for National POY by hitting numerous clutch shots, helping the Huskies once again be a Top 25 mainstay.

30.

Ind


 Florida
Chris Walker

 PF
6'10   220lbs   Freshman

Despite not yet playing in a collegiate game, the highly touted HS player with Lottery potential is finally eligible for the 2nd semester and will make an immediate impact for Florida.  He's been favorably compared to Kevin Garnett and had 39 points and 26 rebounds in a single game last season.
For more Mock Drafts from all sorts of Blogs and Analysts check out The Hoop Doctors 2014 NBA Mock Drafts Database!
Allen Moll has been a lifelong NBA and NCAA College Basketball fan who watches and studies games religiously, and coaches youth basketball in his native Lehigh Valley region of Pennsylvania. Allen has also provided content to Bleacherreport.com, Upperdeckblog.com, Cleveland.com, CSN Philly.com, Buckets Magazine, in addition to being a tenured NBA and NCAA columnist for TheHoopDoctors.com.