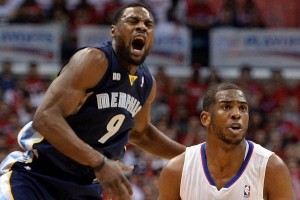 Every so often a story comes around that's so heartwarming while also bizarre. This is one of those times.
According to The Commercial Appeal (via The Score), the Memphis Grizzlies' Tony Allen is auctioning off the shoe he was wearing when he kicked the Los Angeles Clippers' Chris Paul in the face.
One word for this: Epic. Another word: Chivalrous.
Per The Score, all proceeds from the sale will go to "benefit Youth Villages, who are trying to raise $15,000 to buy presents for underprivileged children this Christmas." I can get on board on with that, and you should too.
The "game-worn left shoe," complete with Allen's signature, is currently posted on eBay. As I pen this this, the top bid is $5,300. So if you're hoping to get that special someone a piece of Paul's skin this holiday season, you're going to have to pony up some serious cash.
But remember, it's for a GREAT cause. I'd probably have qualms about this if it was for personal gain. That type of etiquette would pave the way for more weird, self-serving auctions like this.
People would be left to bid on the shorts Kevin Garnett was wearing when Andrea Bargnani tried to pull them off. LeBron James could start catching sweat droplets in a bottle and selling them. Think of what LeBron's perspiration would go for. Think about it. Probably $50,000 at least.
Allen's foray into the eBaying world is totally okay, though. It's not gross like sweat droplets or groin-smelling shorts or game-worn socks or recycled compression boxers. It's a shoe. An autographed shoe. People love signed pieces of footwear—especially one like this.
Memphis' best perimeter defender was suspended one game for this kick, which is now immortalized in NBA lore. Footage of it can be seen below:
Was it done on purpose? I really don't care.
Paul wasn't seriously injured, so it's something we can look back on and laugh our ninnies off about. If it was done deliberately, kudos for Allen for being that flexible and athletic. Had I tried to dell out that kind of kick, I would've broke something. Or been unable to get my feet off the ground. Most likely, I would've aimed for his head but wound up kicking him in the shin or midsection.
Being the gymnastics hero he officially is, Allen's left foot reached Paul's face. Now that's inventive defense. And understated hops. And now, you can own a piece of the action for just $5,400 (minimum next bid).
Alright, probably way more than that. I'm not sure what the real market value of Paul-grazing kicks go for these days, but the goal is to raise $15,000, and I could see that happening. I mean, this shoe. Kicked Chris Paul. In the face. During a game. Those are some valuable sneakers.
Dip them in pools of LeBron's sweat, and you may have yourself a pair of six-figure shoes.
Dan Favale is a firm believer in the three-pointer as well as the notion that defense doesn't always win championships. His musings can be found at Bleacherreport.com in addition to TheHoopDoctors.com. Follow @danfavale on Twitter for his latest posts and all things NBA.