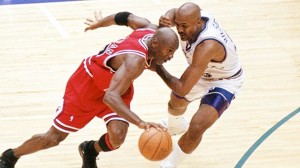 Just about everybody on Earth feels as if Michael Jordan pushed off on Bryon Russell at the conclusion of game 6 of the 1998 NBA Finals. Everybody except Michael Jordan, I'm sure.
And just for the record, Russell's former teammate John Stockton thinks so too.
Stockton recently spoke to Sports Illustrated about all things Jazz, where he states he feels MJ pushed off.
But even if Jordan did shove Russell, is he that strong where he'd make another man fall by pusing him with one arm?
SI.com: First question — Did Michael Jordan push off against Byron Russell?

John Stockton: No question. I'm not saying that because I think it should have been called a foul. I don't. But he shoved him.

SI.com: So he pushed off, but no foul.

Stockton: Agreed.