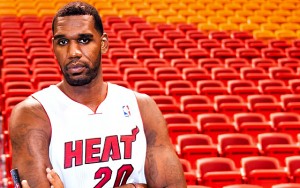 Close your eyes, then pinch yourself; I promise you're not dreaming.
Greg Oden is back on the basketball court. Seriously. And he's dunking. Seriously.
Oden took the floor for the Miami Heat against the New Orleans Pelicans. It was the first time he checked into an NBA game since December of 2009. Think of all the things that have happened since then. The Charlotte Bobcats went from blissfully mediocre to ridiculously terrible. Dwight Howard has suited up for three different teams. I've wrote countless articles about how funny it is that Howard suited up for three different teams. The list goes on.
Anyway…Greg Oden dunked. It bears repeating because it's weird even writing that. He dunked. In an actual game. Not a game that mattered, but still, baby steps.
The jam came off an entry pass from Chris Bosh. Oden caught the pass, dribbled once, employed a head fake and BOOM. It was awesome. Really, it was kind of regular, but awesome nonetheless. This is something none of us have seen in so long. The last time Oden dunked, Justin Bieber wasn't as big of a douche. Now that really takes me back.
See for yourself what the dunk looked like:
Best part of all this? It was a surprise. Yesireebob, coach Erik Spoelstra and Oden shocked us all, according to ESPN's Brian Windhorst:
Oden checked into the second quarter of the Heat's preseason game in New Orleans, the first time he had played in an NBA game since Dec. 5, 2009, a span of more than 1,400 days.

On his first possession, the Heat ran a post-up play for Oden, who turned and dunked the ball. He played an eventful 80 seconds of game time, picking up the basket, two rebounds, a turnover and a foul.

…

Coach Erik Spoelstra told the Heat's television broadcast crew that Oden would get some floor time in part as a reward for his diligent rehab work since signing with the team over the summer. His latest knee surgery came in 2012, the same year he was released by the Portland Trail Blazers.
As far as surprises go, this was great. That his score came on his first possession was incredible. Only thing that could have made it better is if Oden jumped out of a cake. Or if I actually had some cake right now. Or if I actually had some cake and didn't follow a diet that demanded I not eat said cake.
Truthfully, after watching Oden's foray back into actual basketball, I was impressed. He was moving really, really well, navigating the floor like he had played at least once in the last 1,400-plus days, even though he hadn't.
But don't expect Coach Spo to start running with him for 20 or more minutes a night all of a sudden. The Heat have the luxury of patience, which is good, because remaining patient is a necessity here. Once again, baby steps.
"He's way ahead of schedule right now," Spo said afterward. "We don't want to get ahead of ourselves. This is big picture."
It's absolutely about the big picture, about what Oden can handle six months from now. That's what matters most. But if only for one night, it was entertaining to glean a peak at the small, microscopic picture. It looks pretty damn good at the moment.
Dan Favale is a firm believer in the three-pointer as well as the notion that defense doesn't always win championships. His musings can be found at Bleacherreport.com in addition to TheHoopDoctors.com. Follow @danfavale on Twitter for his latest posts and all things NBA.