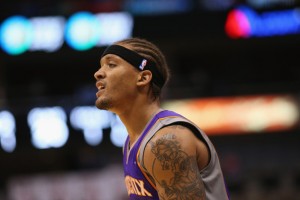 The NBA isn't a league where you typically see guys get released mid-way through their contracts. Especially not a guy who was the #2 overall pick in 2008, just 24 years old and not yet in his physical prime.
However, do to the countless off the court issues surrounding Michael Beasley, the Phoenix Suns did just that. Due to his youth, I don't expect Beasley to be without work for very long. But he needs to get it together.
The Phoenix Suns and Michael Beasley have reached an agreement to terminate the contract of the troubled forward.

The move on Tuesday will cost the franchise $7 million, a $2 million savings from what Beasley would have been due had he simply been waived. It also represents a significant reduction in what the hit on the team's salary cap would have been.

Beasley was arrested a month ago in suburban Scottsdale on charges of felony marijuana possession and possession of drug paraphernalia. It was the latest in a series of incidents involving the drug that have plagued his NBA career after he was selected as the No. 2 overall draft pick out of Kansas State in 2008.

"The Suns were devoted to Michael Beasley's success in Phoenix," Suns President for Basketball Operations Lon Babby said in a statement released by the team. "However, it is essential that we demand the highest standards of personal and professional conduct as we develop a championship culture.
H/T: nba.com