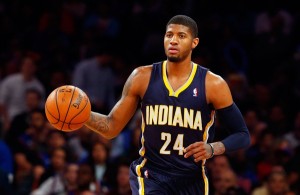 Paul George's future with the Indiana Pacers isn't an issue…because he has one. A bright one.
Entering his fourth year in the NBA, George is eligible for a contract extension. The Pacers have until October 31 to iron out a deal with the league's Most Improved Player, otherwise he'll hit restricted free agency next summer.
After the season Indiana had, few believe that George will reach the semi-open market. Sans Danny Granger, the team's leading scorer during the 2011-12 lockout-truncated campaign, George brought the Pacers within one victory of an NBA Finals berth. Indy isn't about to let someone with his ceiling go.
And yet, some are still trying to make this into an intricate controversy. Previously, we discussedhow the Los Angeles Lakers' cap space could factor into the decision-making process. Because they're the Lakers. Even when they're not relevant, they're relevant.
Make no mistake, though, Los Angeles isn't relevant in this conversation. No one, save for the Pacers, is.
Speaking after Team USA's first practice of the summer, George reiterated that he was committed to staying in Indiana, and ESPN's Marc Stein went on to report that his return is a "forgone conclusion:"
Asked Monday if he's been following all the lobbying in Lakerland, George told ESPN.com: "I'm happy, man. I'm happy in Indiana. It's overwhelming (to hear) that they would want a player like me to come play for their team. But right now I'm focused on Indiana. I'm happy to be in Indiana. Our future is bright in Indiana. I wouldn't want to leave something great."

…

But one source close to the process told ESPN.com this week that a max extension with the Pacers — most likely before the Oct. 31 deadline for extensions for players from the 2010 draft class — is a "foregone conclusion."
No surprises here.
The Pacers are historically mum on contractual fronts. They haven't come right out and said they plan on lining George's pockets over and over and over again, but that's exactly what they're going to do. He's too important to their future to think otherwise.
Remember, this is the same team that gave a 32-year-old David West roughly $12 million annually to stick around for the next three years. Do you really think they're not prepared to throw big money at a 23-year-old prodigy?
I imagine negotiations going something like this:
"Where do I sign?"
That's it. Done. Finished. Over with.
There isn't going to be some hard-nosed back-and-forth taking place between the Pacers and their soon-to-be, but never-will-be restricted free agent. Indiana knows how much it is allowed to offer George over the next four to five years, and its going to offer all of it. And George is going to accept it.
At times like these it's also worth reminding ourselves that restricted free agents not-named Brandon Jennings can usually work out a deal before the season starts. Look at Stephen Curry. Or Jrue Holiday. Or Ty Lawson. Jennings is the exception, an anomaly, if you will.
George is just going to be another example of the norm, which in this case, is a good thing for those inside Indiana.
"It's no rush," George said of contract talks. "Me and the front office … we're on the same page."
My condolences to the city of Los Angeles and the dwindling number of Lakers fans who were holding out hope George would soon be donning purple and gold.
Dan Favale is a firm believer in the three-pointer as well as the notion that defense doesn't always win championships. His musings can be found at Bleacherreport.com in addition to TheHoopDoctors.com. Follow @danfavale on Twitter for his latest posts and all things NBA.