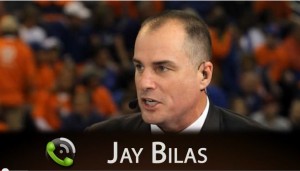 You'll be hard-pressed to find a guy who is more in-tune and dialed-in to the college basketball scene than ESPN's Jay Bilas. With the NBA Draft a few weeks away, and with the NBA Finals upon us, Bilas, no doubt, has a lot to say.
But basketball isn't the only think Jay is involved with. He has also teamed up with Dove Men + Care. You may have seen Bilas sharing his "Real Moments" this spring alongside Dwyane Wade on behalf of his latest partnership with Dove Men+Care, but with Father's Day approaching, Bilas will be taking the time to share how 300 soldiers are experiencing "real moments" with their families this Father's Day thanks to Dove Men+Care.
A partnership called "Mission: Care" between Operation Homefront (a non-profit that provides care and assistance to our troops and the families of service members) and Dove Men+Care is bringing home 300 service members from around the country to spend Father's Day at home this June. Many have never spent Father's Day with their kids and, in some cases, have yet to meet their newborns.
We had the chance to chat with Jay about the NBA Draft, LeBron James and the Heat, his constant tweets about Young Jeezy and of course, his work with Dove Men+Care.
And here is the video that Jay referenced while talking about Dove Men+Care.
Kevin Burke of The Kevin Burke Project brings provocative, thought provoking content about basketball as only he can. Kevin also hosts The Hoop Doctors weekly podcast show, which you can subscribe to for free on iTunes. Follow Kevin on Twitter and Facebook