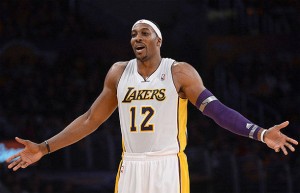 Will Dwight Howard leave, or will he re-sign with the Lakers?
So far, Howard's expressed interest in exploring free agency, as well as interest in not playing for Los Angeles Lakers Coach Mike D'Antoni.
This is foreboding similar to what happened in Orlando.
Howard had a big impact on the Orlando Magic. He got them to the 2009 NBA Finals. Afterwards, he may have gotten Coach Stan Van Gundy fired. President and General Manager Otis Smith fired, or as they say to be politically correct, the two sides "mutually" parted ways. ESPN's Bomani Jones called Howard an immature "diva" in "The Dwight Howard Debacle May Finally Be Over."
The Dwightmare in Orlando:
After one season in L.A., the debacle Howard created in Orlando looks like it's resurfacing in Los Angeles.
L.A. is turning into the same thing. Rifts between D'Antoni and Howard, Howard and Bryant, Howard not feeling like the coach listened to his "voice."
Everyone not named or related to Dwight Howard seems to share a common opinion about Howard: there's too much hemming and hawing.
People want Howard to do three things: quit whining, make a decision, and start winning.
Howard needs to remind himself of the debacle that was LeBron James "decision."
What is special about players like Tim Duncan, Michael Jordan, Bill Russell, Earvin "Magic" Johnson, and Larry Bird is that they never let their egos—some of which were enormous—interfere with winning.
Howard is an up-standing guy, a nice man whose gregarious personality makes him appealing to fans, teams, and owners. If the NBA were a personality contest, he'd be an "MVP" candidate every year.
But, no matter how friendly you are as a person, all the fans (and most owners for that matter) really care about is whether or not a player helps the franchise win.
Howard just helped "lead" the Los Angeles Lakers to a pitiful up-and-down season, a 7th place finish in the west, and a humbling 4-game sweep at the hand of the San Antonio Spurs.
As the Lakers attempt to resign Howard to a max contract, $118 million 5-year contract, Howard has made it clear that it won't be easy.
Howard wants to explore free agency, which will likely include pitches from the Atlanta Hawks, Dallas Mavericks, and the Brooklyn Nets.
Like Kobe Bryant told Howard, when you play for the Lakers and you are in contract negotiation, you say whatever you want to the press and the fans, but at least behind closed doors, tell the Lakers what you intend to do. Allow the franchise to do what is best for the team.
This is not directed merely at Howard, but any player who thinks they are more important than their own team.
If you wanna leave, leave. If you wanna stay, stay.
Stop jerking teams around—that goes for the Lakers, the Magic, or wherever else you land. Make a decision and stick with it.
I know I'm not alone in thinking that Howard has severely hurt his own brand with his indecisiveness. Generally, players wait 'til their careers are over to pursue a job as a coach or general manager. A successful person has good people around them, and you let them do their jobs. Don't micro-manage, especially when it's not even your job to manage in the first place.
The only reason we care about great players is just that—their play.
Once you retire, all you'll have is your money, the records, and your rep.
Howard will get the money he's earned. The records will pile up. But, how will we remember Howard? By his winning, or his waffling?
Rob S. De France is a College and University Instructor of English Composition living in Los Angeles. He has a B.A. in English and an M.A. in Rhetoric and Composition. De France has played, coached, and officiated competitive high school basketball in California for many years. Recently, De France, his wife, and another colleague started an internationally read magazine at Shwibly.com.