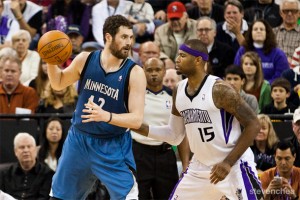 The Cleveland Cavaliers continue to dream big.
After winning the 2013 NBA draft lottery, why shouldn't they? They're obviously riding some kind of a hot streak. This gives them two first-overall picks in the last years. Ain't nothing wrong with that, you know, except for the fact they had to lose in excess to get them.
But that's not the point. The Cavaliers haven't tapered their ambitions; they've actually grown.
Trading the top pick of the draft is considered a viable option for Cleveland. It could use it to draft, say, Nerlens Noel, but it could also be used as a means to land Kyrie Irving a superstar sidekick right away.
According to Joe Kotoch of Sheridan Hoops, the Cavs would be more than open to the latter if it involved landing Kevin Love of the Minnesota Timberwolves:
The Cleveland Cavaliers are fielding calls from everywhere, but the team they'd really like to to make a deal with is Minnesota.

And if the Timberwolves are willing to surrender Kevin Love, the No. 1 pick is available to them, sources tell SheridanHoops.com.
Of course they would. They'd be foolish not to. I'm not one to say drafts are weak. We never really know that. But this one doesn't boast the number of preordained stars teams tend to pine for. Love, while injury prone, is a star. The Cavaliers need another star.
The thought of Irving driving-and-kicking out to a stretch forward like love is beyond intriguing. Those two together would immediately put the Cavaliers back in playoff contention.
What else would put them back in contention? Acquiring DeMarcus Cousins from the Sacramento Kings in conjunction with Love.
Per ESPN.com's Chad Ford (subscription required), the Cavs also have their sights set on embattled big man:
he playoff issue might be the biggest reason why the Cavs don't pick Noel, or anyone else for that matter, with the No. 1 pick. Sources say the Cavs have already begun to explore what they can get with the No. 1 pick. If they can get a young big or small forward in return, Gilbert will be pushing for them to trade the pick.

Whom can they get? The pickings will be slim. Teams aren't dying to get the No. 1 pick. But one name that you shouldn't totally rule out is the Sacramento Kings' DeMarcus Cousins.
Now, I say "in conjunction with," but there's really no way the Cavs get both. They've only got No. 1 pick. And even acquiring one seems unlikely.
Love and Timberwolves seem to be doing just fine after David Kahn was sent packing. While the No. 1 pick would be an interesting building block, Love is an All-Star who is only approaching his prime. Does Minnesota believe it's that far away from contending it would trade a 24-year-old Love?
Cousins admittedly seems more realistic. He's made nothing but waves in Sacramento and with the team under new ownership, a complete fresh start shouldn't be out of the question—especially if it involves beginning anew with the top pick in the draft.
Unlike Love, however, Cousins has been known to cause issues internally. Though he'd be able to defer to Irving in the leadership department if sent to the Cavs, Cleveland doesn't exactly have the veteran guidance Cousins so desperately needs. Also, Love is likely to entice prospective free agents in 2014 more so than Cousins would.
Are either of these to players truly obtainable? When the first-overall pick is involved, we can't rule anything out. That said, a Love deal is more than unlikely. Like so unlikely. And Cousins may be right there with him only because the Cavs are wise enough to understand he could be a detrimental acquisition.
Between now and the draft, other scenarios are likely to present themselves. Unfounded or not, this is only the beginning of the draft-rumor mill.
So buckle up. It's about to get DeMarcus Cousins-turbulent leading up to the draft in Cleveland.
Dan Favale is a firm believer in the three-pointer as well as the notion that defense doesn't always win championships. His musings can be found at Bleacherreport.com in addition to TheHoopDoctors.com. Follow @danfavale on Twitter for his latest posts and all things NBA.