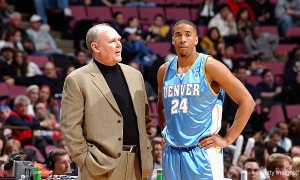 Mark Jackson totally outcoached George Karl in the first round of the NBA playoffs…so says Denver Nuggets point guard Andre Miller.
Wait, what?
Miller threw Karl under the bus after the Golden State Warriors beat the Nuggets in Game 6 of their first-round series to advance to the semifinals against the San Antonio Spurs. Yes, this is the same Miller who undoubtedly passed on some starting jobs this summer to re-sign as Denver's backup point guard. And yes, this is the same Karl who has sung nothing but Miller's praises, going as far as to call him one of the best point guards to have ever played the game.
None of this mattered following the loss to Golden State.
Emotions were undoubtedly running high after the Nuggets were upset by the Warriors, but no one saw this coming. Well, that's not entirely true. From the beginning of Miller's postgame interview, you knew something was going to be said that would be blown up. Just not this.
When asked about what the younger players on the Nuggets learned from the series against Golden State, Miller responded by saying he didn't think they learned anything.
What'd you think the younger players learned from this series, Andre? Miller reponds: "Nothing. Nothing."

— Ethan Strauss (@SherwoodStrauss) May 3, 2013
Two nothings? Yeesh. Miller was clearly pissed. He also wasn't done.
Discussing what exactly went wrong for the third-place Nuggets, the veteran point man didn't hesitate to displace the blame upon Karl.
Welp, here's some Karl-bus-throwing from Andre Miller: "We got outplayed, we got outcoached."

— Ethan Strauss (@SherwoodStrauss) May 3, 2013
I'm thinking that's going to come up in Miller's exit meeting. Unless he pulls an Antawn Jamison and doesn't show up, which he won't. Miller is still under contract with the Nuggets for another two seasons. Unless he plans to retire, that meeting is going to happen. And it's going to be awwwwkward.
Luckily for Karl, Miller isn't in a place of power to where he can get one of the greatest coaches in the history of the game fired. Unfortunately for Karl, Miller does have a point.
It took far too long for Karl to start JaVale McGee over Kosta Koufos and even when he did, McGee didn't see a major uptick in minutes. Karl has been condemned across the NBA sphere for his minutes management all season, and you can't help but wonder how different this series would have been if there would have been a little less Kosta, and a little more JaVale, among other things.
Still, it's difficult to blame Karl and no one else. Had the Nuggets knocked down some of their threes (31.7 percent for the series) and played better defense, maybe Miller wouldn't have been in a position where he was drawing what we can only assume was a caught-in-the-moment conclusion.
There's clearly some changes that need to be made in Denver, but Karl isn't one of them. He needs to rely more heavily on his key players, but he doesn't need to be fired. Instead, the Nuggets need to tell Miller to shut the hell up find some affordable shooters on the market so that they're not so reliant on their rim and fast-break attacks. Preaching defense to any and all wings not named Andre Iguodala would be a good place to start too.
Though Miller probably won't apologize, this is no time for the Nuggets to blow it up, Karl included. They finished third in the Western Conference and still have one of the deepest teams in the NBA. A few tweaks is all they need.
And perhaps a couples getaway for Karl and Miller. They clearly need to recapture the magic that suddenly eludes them.
Dan Favale is a firm believer in the three-pointer as well as the notion that defense doesn't always win championships. His musings can be found at Bleacherreport.com in addition to TheHoopDoctors.com. Follow @danfavale on Twitter for his latest posts and all things NBA.